SU's MacDougall Earns Fulbright Canada Research Fellowship
Wednesday April 28, 2021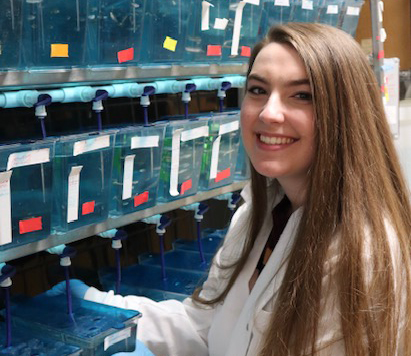 SALISBURY, MD---With an interest in studying abroad and continuing to expand her research experience, Salisbury University junior Madison MacDougall has been awarded a Fulbright Canada Mitacs-Globalink Research Fellowship for summer 2021.
Due to COVID-19 travel restrictions, MacDougall, of Salisbury, will be unable to travel to Canada for the fellowship, but will still have the opportunity to work closely with Dr. Manu Rangachari at Université Laval-Québec. His research examines the immune response in mouse models of multiple sclerosis (MS).
In MacDougall's initial discussions with Rangachari, she hoped to work with him to examine the effects of the SARS-CoV2 spike protein, a component of the virus that causes COVID-19,, on his multiple sclerosis mouse model. However, the travel restrictions changed that.
Now, MacDougall, a biology and psychology double major, will work with Rangachari to develop a review article about what is known and unknown about COVID-19 and MS, and potential applications to animal models in future studies.
"Not much is known about how the SARS-CoV2 virus impacts individuals with different disorders," said MacDougall. "I will be reading the literature and compiling what scholars currently think about COVID-19 and MS into a review article that also addresses how different animal models may be useful in future research on this topic. I will be collaborating with Dr. Manu Rangachari on this, as well as Dr. Philippe Beauchemin, who is a neurologist and MS specialist at the Quebec City University Hospital.."
This will not be MacDougall's first efforts in this area after examining COVID-19's impact on the nervous system in an independent study in fall 2020. That work was prevalent in MacDougall's interview with Rangachari, helping to lead them to her path of study during this summer.
Rangachari's work currently is not focused on COVID-19 and its effects on those with multiple sclerosis – a neuro-degenerative condition – but MacDougall's previous work and interest in the topic allowed her to help build her own project for the summer. It will connect to similar work she is conducting in Dr. Jessica Clark's laboratory at SU, which also is based in neuroscience.
"I'm studying the effects of the drug lavendustin-A on peripheral nerve degeneration in a zebrafish model of diabetic peripheral neuropathy (DPN). I am specifically looking at demyelination of the peripheral nerves. Because MS causes demyelination in the central nervous system, I'm excited to apply my knowledge about demyelination in the peripheral nervous system, as well as incorporate what I know about COVID-19 from my independent study," said MacDougall.
While the fellowship will be conducted virtually, MacDougall hopes to visit the institute to see some of the work she contributed to and meet the staff involved in person once travel restrictions are lifted.
"As this scholarship is open to students from any discipline, it is highly competitive and gives excellent research experience," said Dr. Kristen Walton, director of SU's National Fellowships Office. "Madison's work in Dr. Clark's lab prepared her for success in the program and this opportunity will give her added undergraduate research experience to help prepare her for her career as a neuroscientist."
Students interested in fellowship opportunities may contact Walton by email.
For more information call 410-543-6030 or visit the SU website.