SU's Food for the Flock Expands Hours, Offerings
Thursday November 11, 2021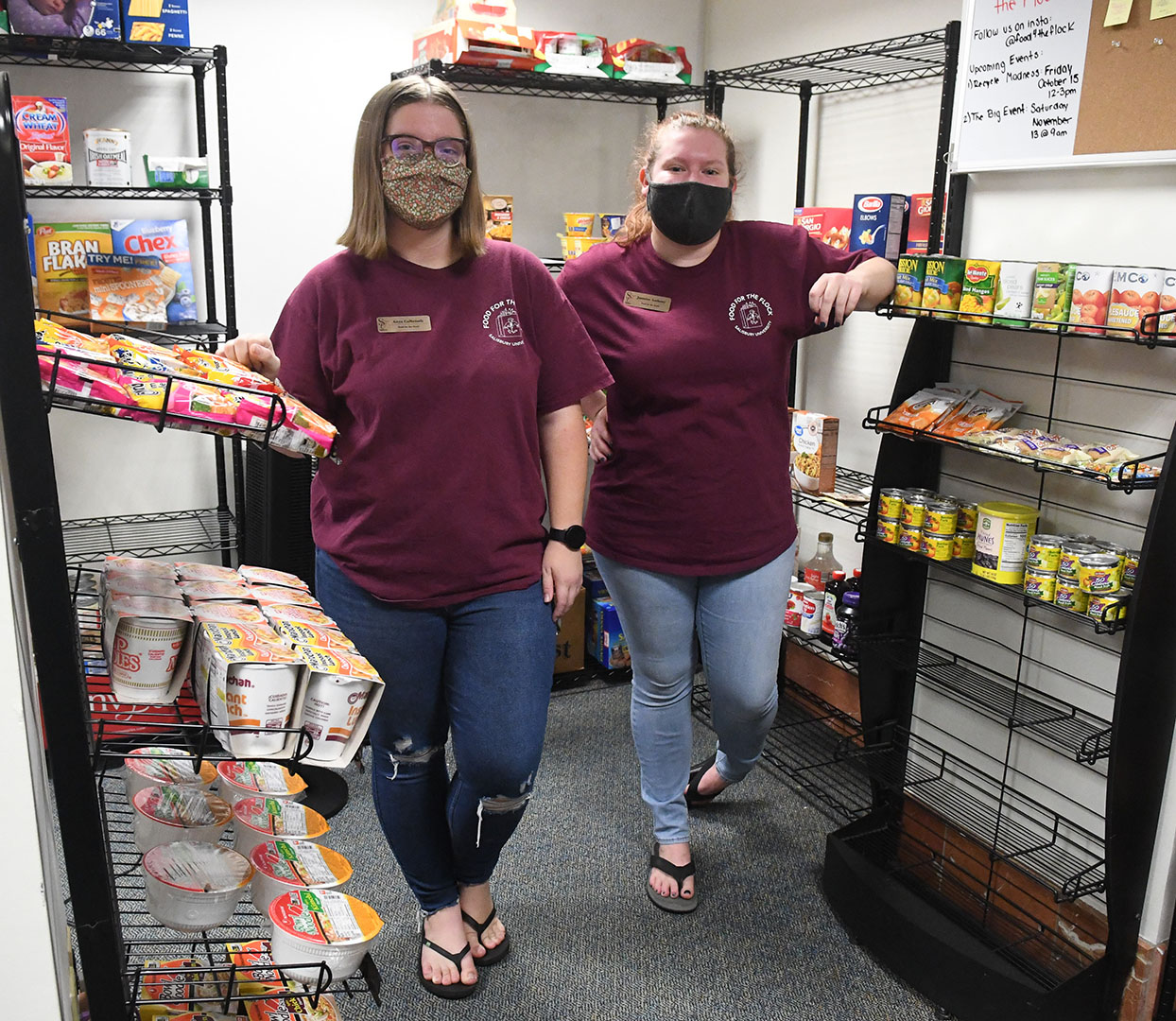 SALISBURY, MD---Sea Gulls helping Sea Gulls: That is what Salisbury University's Food for the Flock student food pantry is all about.
The organization accepts donations of non-perishable food from students, faculty, staff and outside agencies. Student and employee volunteers staff the center, which provides food for members of the SU community in need.
The COVID-19 pandemic forced a reduction in hours and, in turn, a reduction in those helped in 2020 and spring 2021. This semester, with a strong leadership core, Food for the Flock is thriving, having grown into a collaboration between the Institute of Public Affairs and Civic Engagement (PACE), SU's ShoreCorps AmeriCorps program, and student volunteers.
Started in 2018 as a student volunteer effort, the pantry's intent is to decrease food insecurity among students, while also offering cosmetics and cleaning supplies.
"We're here to serve students," said Michael Webber, PACE assistant director and Food for the Flock supervisor. "If we can get a student through the week with the supplies they need, they're going to go to class. They're going to be successful in their college career. That's ultimately what we want through this organization."
During the pandemic, the pantry operated just eight hours per week, helping up to 10 students per day, on average.
Webber and student AmeriCorps staff Jazmine Anthony (co-president), Anya Galbreath (co-president), Jaydan Fogo (vice president of operations) and Spencer Tilghman (vice president of inventory and finance) have been able to increase the organization's reach this year, with a full contingent of more than 40 student volunteers. The pantry is open five days per week, with morning, afternoon and evening hours.
"Volunteers are really the backbone of the organization," said Webber. "Their efforts and selflessness have really helped us. Even during the pandemic, we had volunteers who were coming in to serve the pantry. If it wasn't for them, we wouldn't be where we are today."
The AmeriCorps students take a larger role in the organization, and, in turn, receive a monetary education award at the end of their time with Food for the Flock, which can be applied toward tuition, student loans or other educational needs.
As a member of the Maryland Food Bank, Food for the Flock is available to the general public, as well as the SU community. It is discreetly located on the ground floor of the Commons, next to the University Bookstore, and no appointment is needed.
"It's really nice that this organization exists to take some pressure off," Webber said. "They don't need to worry about how they're going to pay for this. It's one thing we can take care of."
Those interested in volunteering, donating or learning more about Food for the Flock should email the organization or visit the Food for the Flock webpage.
SHARE