City Internships Foster Relationships, Give SU Students New Perspectives
Friday June 12, 2020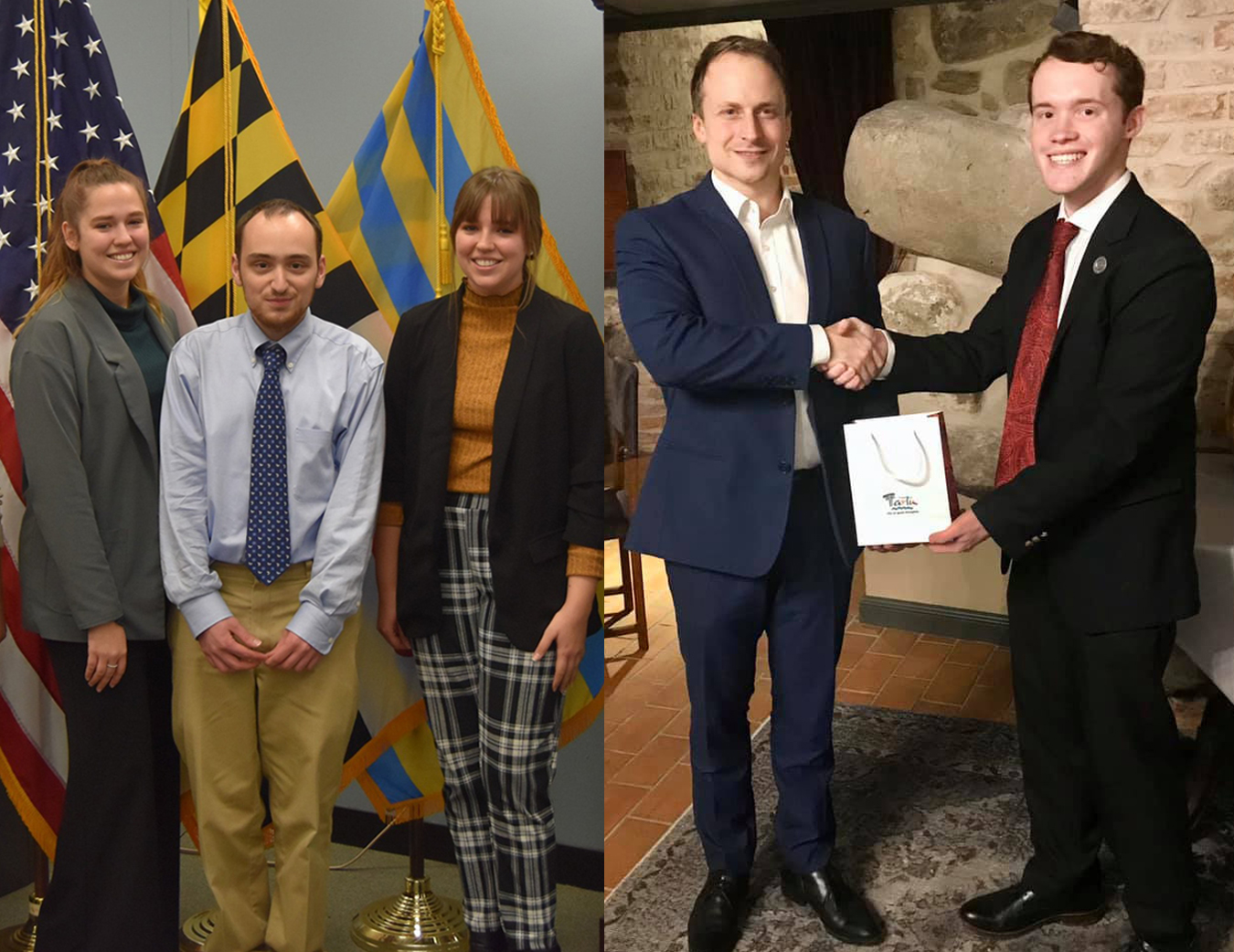 SALISBURY, MD---When Salisbury University senior Nathaniel Sansom arrived in Tartu, Estonia, as an intern and ambassador of the City of Salisbury, he saw many similarities between the two cities.
Like Salisbury, Tartu is a university town. In fact, the two cities' universities have an ongoing relationship; the University of Tartu is part of the Salisbury Abroad exchange program, which hosts SU students for a semester of study. Tartu also has a local airport and a river walk.
"There is so much both of our cities share," Sansom said. "I was thousands of miles away from Salisbury, but being in Tartu still reminded me of home."

The City of Salisbury has long offered internships to SU students. Last fall, three other students completed internships with the City: Jordan Scanlon, Jaycee Scanlon and Mark Cimiluca. Twin sisters Jordan and Jaycee assisted the Communications Department with press releases, graphic design, social media and event management, while Cimiluca worked with the Mayor's Office on policy and other initiatives.
Jordan and Jaycee, both senior communication and English double majors from Glen Burnie, MD, often worked on similar projects and would pick up where the other left off each day. While they spent some time in the office writing posts for city social media accounts, they were often out in the community attending ribbon cutting ceremonies, visiting departments and coordinating with various offices and teams to assess the needs of Salisbury residents.
"We actually didn't know the other had applied for the internship," Jaycee said. "We were on break and both got the email at the same time and were like, 'Huh? You applied, too?'"
However, both gained unique experiences from their internships that have given them a new perspective on how their majors translate to the real world.
"I gained a wholistic perspective of how local governments work and how communications play a part," Jordan said. She often worked with the Green Team and Office of Sustainability on recycling campaigns and said she enjoyed connecting with other departments.
Jaycee enjoyed events such as Small Business Saturday, where she would meet with business owners and use social media to encourage support for local businesses.
"The internship allowed me to immerse myself in how the city ran," Jaycee said. "The community aspect was important. I thought, 'How can I use my work to help the city?'"
Cimiluca of Arnold, MD, a graduate student in the Master of Business Administration program, said his internship also helped him see the bigger picture of how local governments operate. He has experience working for the federal government and appreciated being able to see a different side by working at a local level. He assisted with administrative tasks, participating in events such as the National Folk Festival and shadowing city officials.
"I was surprised by the kinds of work they do," Cimiluca said. "It's very hands-on. They're out there setting up for events and are very involved in the community."
Sansom has interned with the City of Salisbury since he was a senior in high school. The purpose of his visit to Tartu was to further Salisbury's relationship with its sister city as it prepares for its title as the European Capitol of Culture in 2024. While in Tartu, Sansom shared presentations on the National Folk Festival, which Salisbury has twice hosted, as well as the revitalization of downtown through public art and Arts and Entertainment District events.
While culture was a pillar of the discussion with Tartu officials, Sansom said a secondary reason for his visit was to discuss other issues faced by small cities. They exchanged information about everything from homelessness initiatives to local airports . He even got the opportunity to have dinner with the deputy mayor of Tartu and his wife.
"I had an amazing time visiting Salisbury's sister city," Sansom said in a Facebook post about his trip. "It was a busy few days filled with many meetings, great food and unparalleled hospitality."
Eight SU students interned with the City during the spring 2020 semester, doing everything from administrative duties in the Mayor's Office to helping coordinate sustainability efforts.
For more information about City internships, call 410-543-6030 or visit the City of Salisbury website. Explore other internship opportunities on the SU website.
SHARE