$75 Million 'We Are SU' Fundraising Campaign Launched
Friday June 14, 2019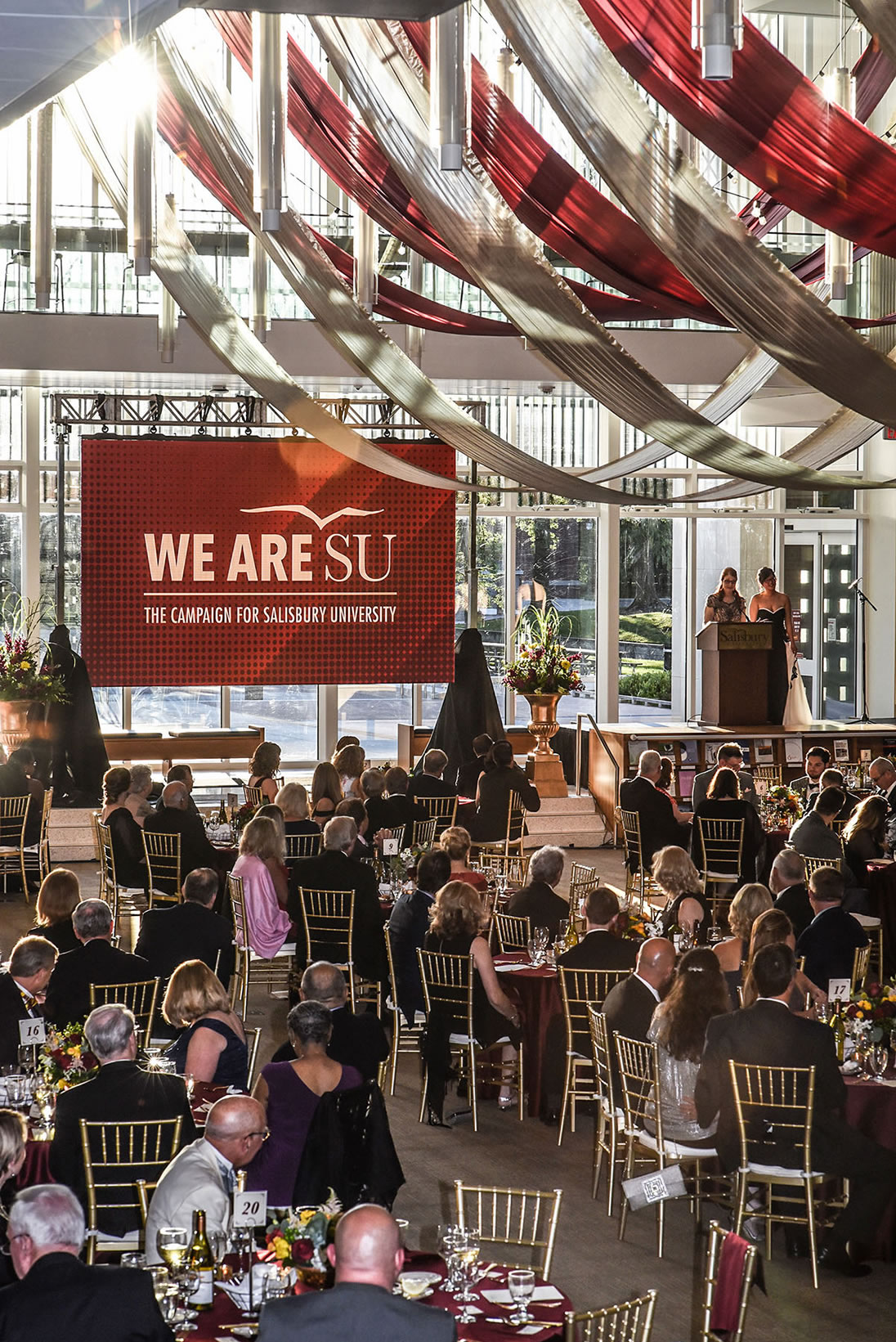 SALISBURY, MD---At Salisbury University, mathematics and computer science major Lela Bones conducts research on brain-computer interfacing, using brainwaves to control prosthetics in Henson Science Hall. This summer, she will continue her research at Johns Hopkins University as a winner of the prestigious Amgen Scholarship.
One building over, in Fulton Hall, music major Sara Miller trains in vocal performance with SU's award-winning faculty. Earlier this year, she was named No. 1 in her category at the Maryland-D.C. National Association of Teachers of Singing student auditions.
They were just two of the students who shared what their SU education meant to them during a launch party inaugurating the public phase of "We Are SU: The Campaign for Salisbury University." The $75 million initiative is the largest in campus history.
"Lela and Sara's accomplishments are representative of the many success stories we hear from our students and alumni," said SU President Charles Wight. "The goal of this campaign is to enable more students to have those types of successes by increasing our scholarship base and providing more funding for academic programs."
"SU's last major fundraising effort, which culminated in 2012, was a capital campaign," said Jason Curtin '98, vice president of university advancement and external affairs, and executive director of the SU Foundation, Inc. "Through it, we changed the skyline of Salisbury with new buildings including Conway Hall, Perdue Hall and Sea Gull Square. This campaign will focus on the people of our campus.
"We want to provide more money to help students attend SU and more funding for faculty and staff to enhance the opportunities available to them, all ultimately helping to enrich our community. We already have raised more than $48 million during the campaign's silent phase. We are now going public and asking others to help us meet our $75 million goal."
The kickoff took place in the University's newest building, the Patricia R. Guerrieri Academic Commons, blending an academic environment with the festive mood. Guests included SU Foundation and Alumni Association board members, faculty and staff, members of the greater community and benefactors including Dave Rommel, owner of the Rommel Companies and chair of the campaign.
"For many years, I've seen the value SU and its graduates have brought to this area," said Rommel. "Providing new opportunities for more students will allow the University to have an even greater impact on our region, our state and beyond. That's really what this campaign is about: producing highly educated graduates who will become the leaders, entrepreneurs and workers of tomorrow."
The launch showcased many of SU's academic schools and colleges via information tables, live student and faculty performances, and the debut of a new video showing how far-reaching SU's programs are, from the classroom, to the hospital, to laboratory, to the office, to the stage and beyond.
The success of SU graduates also was on display with gifts for attendees from alumni-owned businesses including Sposato Family Vineyards and Dolle's Candyland. M&T Bank sponsored the event.
"This campaign will help us build the University's future," said Curtin. "It's exciting to think about how many students potentially could benefit from the generosity of all who give. We're calling it 'We Are SU' because our donors — whether they are alumni, parents, employees, current students or friends from the community — are all part of SU, as well."
For more information call 410-543-6175 or visit the "We Are SU" campaign website.
SHARE