Five Honored with SU Alumni Association Faculty Appreciation Awards
Monday December 16, 2019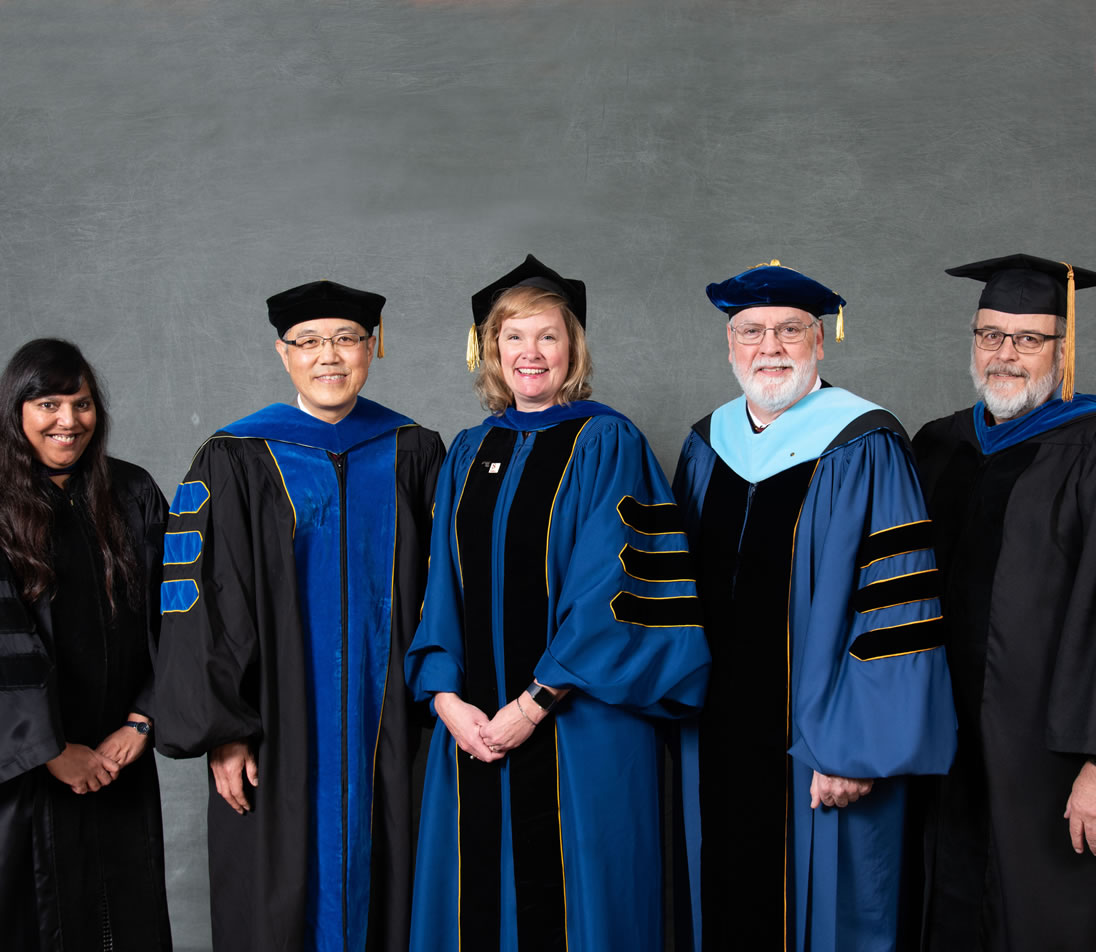 SALISBURY, MD---This year's Salisbury University Alumni Association Faculty Appreciation Award winners are "enthusiastic," "invested" and "caring," "encouraging" and "left a lasting impression," according to their former students.
The association honored five with the accolade during SU's 94th-year Fall Commencement. They include Drs. William Campbell, Nursing, of the College of Health and Human Services; Anjali Pandey, English, of the Charles R. and Martha N. Fulton School of Liberal Arts; Mark Frana, Biological Sciences, of the Richard A. Henson School of Science and Technology; Brandy Terrill, Early and Elementary Education, of the Samuel W. and Marilyn C. Seidel School of Education; and Ying Wu, Economics and Finance, of the Franklin P. Perdue School of Business.
"These are professors whose efforts have made a lasting impression on students, who have provided dynamic classroom instruction, who exhibit attributes graduates can take with them into their careers and who have made a difference in the lives of their students," said Lili Leonard, Alumni Association president.
In their nominations, alumni frequently gave eloquent and heartfelt praise to the faculty members who helped shape their experiences at SU.
"I had the pleasure of being Dr. Campbell's student for three out of my four years at SU, and I am grateful," said one former student. "Not only did he present his material in a clear manner, he always made sure that everyone fully understood a concept before moving on. You could tell that he genuinely cared about the well-being and success of his students."
"Dr. Pandey has prepared hundreds of teachers on the Eastern Shore to meet the challenges of a linguistically and culturally diverse student population," said an SU alum. "I know that she has touched numerous lives as she trained us to teach this student population to speak, listen, read, and write in mainstream classrooms. This is noteworthy because most of the counties on the Eastern Shore are quickly becoming minority-majority schools."
"It was evident that Dr. Frana loved teaching by his enthusiasm in and out of the classroom," said his nominator. "He encouraged students to take on undergraduate research projects in his lab as well as with others in the department to give us the real-world experience we needed to succeed after graduation."
"Dr. Terrill had a huge impact on my education and my career as a teacher," said a former student. "She treated us as her future colleagues, which elevated the experience for everyone in the room. In fact, I am using many of the techniques she taught us in my own classroom now."
"Dr. Wu invested fully in his students," said his nominator. "His classes were drenched in intellectual debate. When such debates arose, they allowed students to be empowered as academics. This environment expanded the learning experience exponentially and compelled the empowered to go the extra miles in their studies."
For more information call 410-543-6030 or visit the SU website.
SHARE