$250,000 Kimmerly Messick Scholarship Endowed at SU
Wednesday November 13, 2019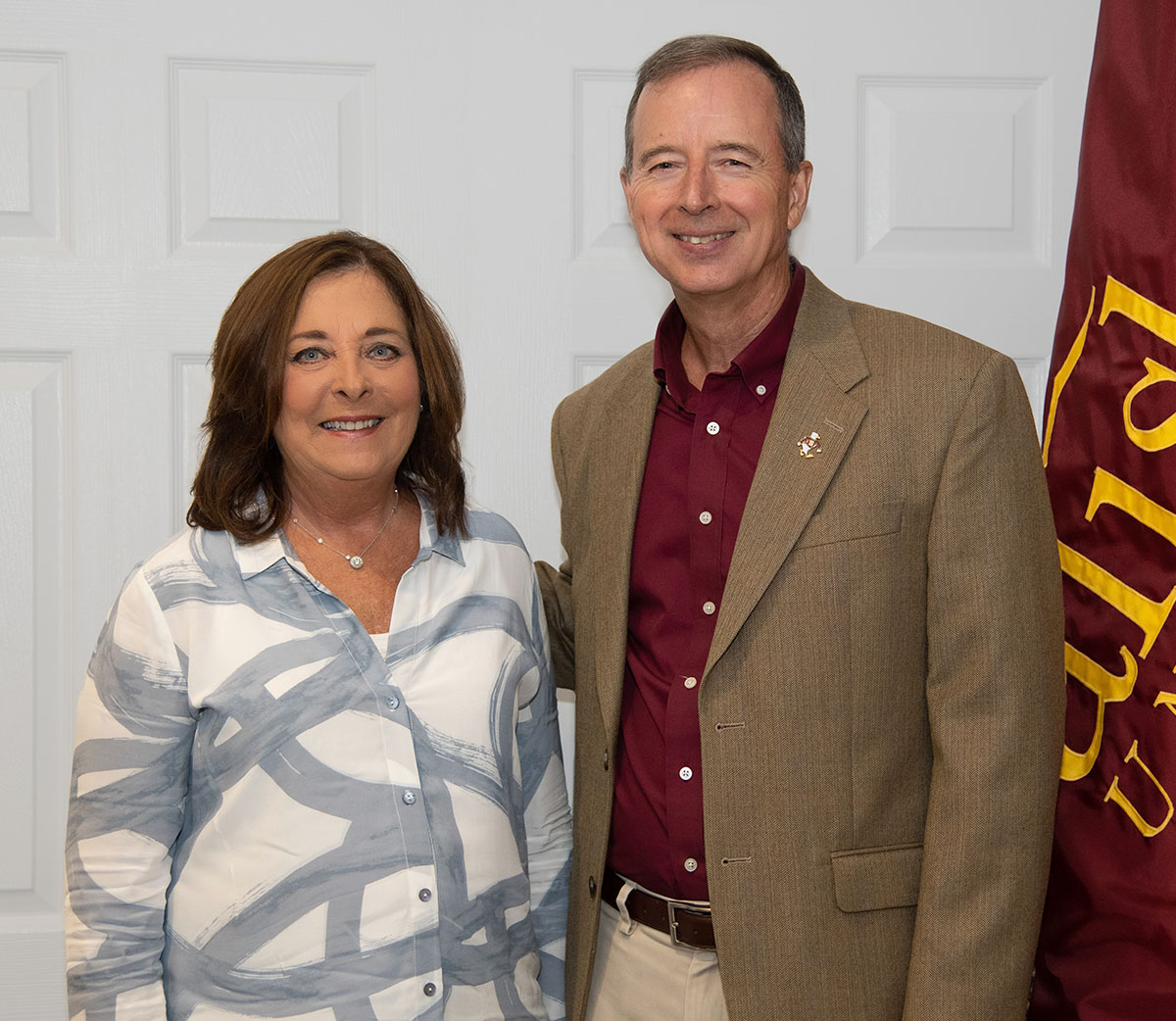 SALISBURY, MD---When Delmarva entrepreneur Kimmerly Messick enrolled at Salisbury University in 1975, she worked two jobs to pay for her tuition.
Having made her career as a successful furniture store owner, with retail outlets in Ocean City, MD, and lower Delaware, the alumna wanted to give back to her Alma Mater to help ease financial burdens for today's students. She achieved that goal by donating $250,000 to endow the Kimmerly Messick Scholarship at SU.
"I wanted to look in the mirror, seeing someone in the same position I was in at that age, with desperation to succeed," she said. "It's not so much about grades, but about passion and dedication."
The first two recipients strongly demonstrated those traits. Devin Phillips, a junior information systems major from Salisbury, already has started his own information technology business.
The scholarship "relieves so much stress," he said. "It's amazing."
Ronald Cavelius, a senior business major from Ellicott City, MD, also has worked on a business startup. Pitching his Solar Green HVAC idea to judges at SU's annual student Entrepreneurship Competitions in the Franklin P. Perdue School of Business last semester, he won some $18,000 in cash and prizes to develop this concept.
They were selected based on essays and interviews with Messick; Dr. Christy Weer, dean of the Perdue School; William Burke, SU executive director of economic development, director of entrepreneurship competitions and professor of practice in the Information and Decision Sciences Department; and Stefanie Gordy, major gifts officer in the University Advancement and External Affairs Division.
The Kimmerly Messick Scholarship provides $5,000-$10,000 per recipient each semester, renewable for up to eight semesters. First preference is given to students from Worcester and Wicomico counties with entrepreneurial interests.
"Kimmerly embodies the definition of a self-made person through hard work and persistence," said Jason Curtin, vice president of university advancement and external affairs, and executive director of the SU Foundation, Inc. "She wanted to provide a gift that ensured local students are able to pursue their education on the Eastern Shore with an eye toward building the economy as entrepreneurs. It's a win-win for SU and for the community."
Messick is no stranger to charitable giving, also supporting additional organizations including the Art League of Ocean City and Peninsula Regional Medical Center, among others. She serves on the board of directors of the SU Foundation, the PRMC Foundation and the Farmers Bank of Willards.
Messick created her scholarship as part of "We Are SU: The Campaign for Salisbury University" and is challenging others to do the same. Publicly launched in June, the $75 million fundraising effort is the largest in campus history. Priorities include support for student scholarships and other opportunities.
For more information call Gordy at 410-677-0292 or visit the "We Are SU" campaign website.
SHARE