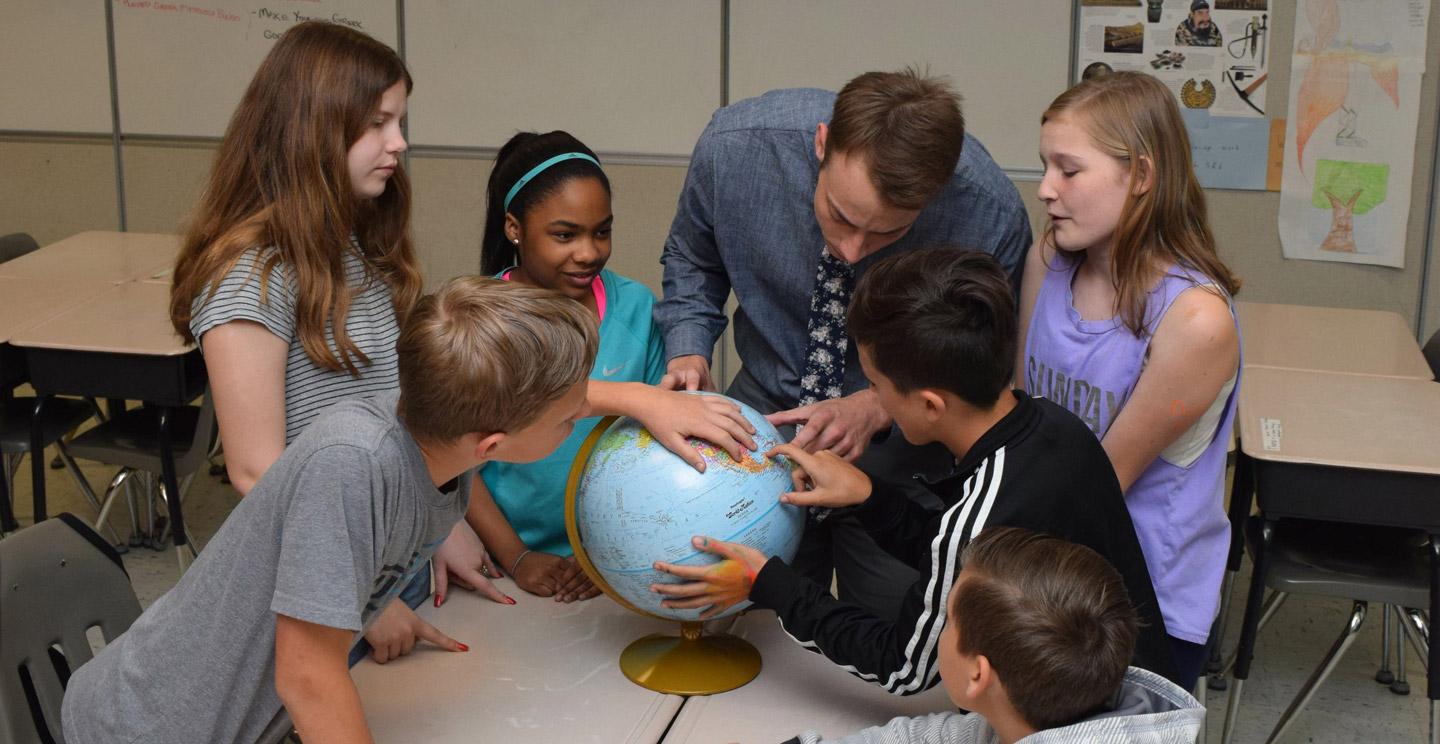 Elementary Education Major
Children's faces brighten when they learn. You can share your love of learning with them and nurture the skills they need to succeed. With an elementary education degree from Salisbury University, your enthusiasm will electrify your students' curiosity and enlighten them with lessons that will last a lifetime.
Why Choose an Elementary Education Major at Salisbury University?
As an elementary education major at SU, you'll complete a rigorous program of study that meets state and national standards. Our program is fully accredited by the Association for Advancing Quality in Educator Preparation and National Association for the Education of Young Children and is approved by the Maryland State Department of Education for elementary school teacher certification (grades 1-6). These high standards we uphold have resulted in our 100% licensing exam pass rate. That's great news for you!
Your education at SU will require clinical and internship experiences. You can even apply to study abroad.
Area public schools also host our teacher candidates for real-world experience. What's more, the hard work and talents of a whole list of Salisbury graduates have earned them the honor of Teacher of the Year.
SU's Regional Professional Development Schools Network has been honored with four national awards for their exemplary partnerships with P-12 schools; the second in the nation.
In addition, the Department of Early and Elementary Education offers a dual certification in elementary and early childhood education.
Careers for Elementary Education Majors
What is the best major for elementary school teacher? What can you do as an elementary education major? A background in elementary education goes beyond the classroom. While many of our students aspire to become elementary school teachers, you could also find your fit as one of the following:
Child Care Worker
Children's Museum Project Coordinator
Disabilities Specialist
Family Services Worker
Learning Mentor
Youth Sports Coach
Our graduates also demonstrate their commitment to education in other ways:
Initiate or organize clubs and community events: before-school jump rope club, local community math night
Drive students to reach the healthy fitness zone according to the Michelle Obama "Let's Move" campaign and a "Just for Girls" afterschool program
Develop and analyze curriculum for the State of Maryland
Write key performance indicators for Maryland's physical education curriculum
Chair or serve on various school and community teams: Crisis Management Team, County Equity Team, Faculty Advisory Committee, School Improvement Team and School Instructional Leadership Team
Elementary Education Program Admission Requirements
To apply to Salisbury's Professional Teacher Education Program, be sure to submit our online Professional Teacher Education Program (PTEP) Application prior to your advising appointment. A series of pre-professional required courses must also be completed before entry to the program is granted. Be sure to:
Complete a minimum of 46 hours in the elementary education program with an overall GPA 2.50 or higher (including transfer courses). Any courses older than seven years are subject to review for acceptance toward fulfilling degree requirements.
Maintain a 2.75 GPA or greater in the required pre-professional courses. The Praxis Core is no longer required by the State of Maryland for admittance in the teacher education program. However, the Maryland State Department of Education requires teacher candidates who graduate with an overall GPA of 3.0 or greater to take the Praxis Core or submit other qualifying scores.
Exhibit appropriate professional program candidate dispositions. Professional dispositions are the values, commitments and professional ethics that influence behaviors toward students, families, colleagues and communities and affect student learning, motivation and development as well as the educator's own professional growth.
Submit a Professional Teacher Education Program application to the education advisor by the established deadline set by the Early and Elementary Education Department. The online application must be submitted prior to the semester the candidate wishes to enroll in professional education courses
Elementary Education Course Requirements
Earn a GPA of 2.75 or higher with no grade below C for required Pre-Professional Program courses listed below. Use our GPA Calculator to help. 
High school students can take courses before they get here to get ahead in the education program through the Teacher Academy of Maryland.
Learn More About Our Elementary Education Program