Soloist Spotlight
Dominic Armstrong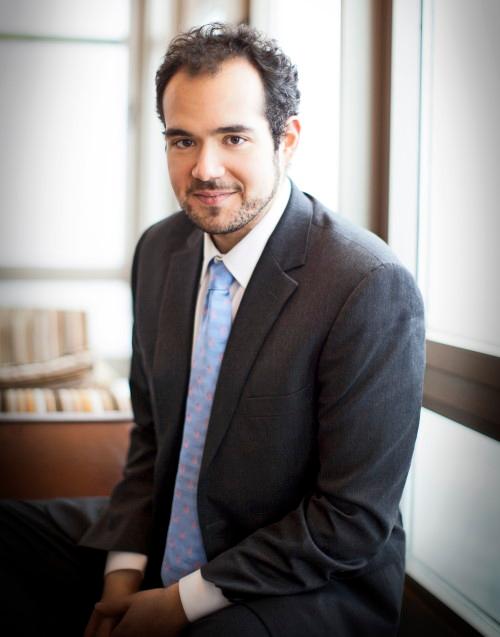 Why and when did you start performing?
I started performing at a very young age. My neighbor as a child was a church organist, and would babysit me from time to time. She would teach me songs during that period, and I was also a quick study with commercial jingles and television theme songs. My Grandmother used to tell me I would sneak into her room in the mornings when they would visit and perform a 2-hour concert on the bed for her and my Grandfather.
Did you play any instruments as a child?
I played the clarinet from 5th Grade until 10th Grade when I was forced to drop either the instrument or singing. My band instructor was not happy with my choice, but ultimately, I guess it was the right one!
What are some struggles or challenges, if any, you have overcome in your career?
I've been rather fortunate in my career, but there have obviously been times when the work was not as consistent as I would like. Routine and a lack of it is usually my biggest obstacle. I like to know where to go, and what the plans are, and while I don't mind being spontaneous in certain respects…I also need some consistency in my day to day to maintain myself. My mantra has always been to just keep singing, and almost any opportunity that has arisen I've tried to take full advantage of. Sometimes this leads me to being spread a bit thin, but I also enjoy the challenge!
If you were not a singer, what could you see yourself being?
As I have gone through my career I find myself enjoying teaching more and more, but if I were not involved with music I can imagine going into public service in another form.
Who were your early influences/inspirations?
The first singer I really listened to and had an affinity for was Kenny Rogers! After that my biggest influence was watching the second Three Tenors concert while on vacation in Wyoming. The voices I heard there really inspired me to sing more in that direction.
Who or what inspired you that was not music-related?
I am inspired all the time by so many things…I am a tv junkie, and love watching little things happening. Constantly observing a trying to find meaning in the smallest movements. Most of the things I watch I will find myself putting in a little hopper in my memory that will help me connect to something I'm working on or may work on in the future.
What is your favorite musician or period of music?
These kinds of favorite questions are always so hard for me! When I was in school, I remember studying German lieder and really not liking it. I remember studying atonal music and finding it horrible. It seems that when I don't like something initially, I'm very drawn to it eventually…as now I sing in German quite a bit, and have done a lot of contemporary music! I guess the music I'm most drawn to away from working on a piece is the Frank Sinatra, Dean Martin, Louis Prima inclination.
8. Favorite piece of music to sing and/or to hear?
Most recently I've been asked to do a lot of Beethoven 9's. It's absolutely stunning and even more, I love watching the audience reaction to the piece. It's so gratifying to see the audience be in a live theatre again and to be so happy listening to something. Understandably because they have some earlier connection to it, but it's a good gateway to get them coming back, hopefully!
Learn more about Dominic Armstrong
Student Spotlight
Lian Peach
Lian Peach is a sophomore from York, PA. She is a political science major with a minor in economics, and this is her 2nd year playing with SSO!
Why did you pick SU?
I picked SU because I loved the welcoming feeling I got from the very first tour. I really like the size of Salisbury since I see a lot of people I know while walking around campus but there's still plenty of new people to meet!
When did you start playing an instrument?
I started playing violin when I was in 3 rd grade, and I've taken lessons ever since 4 th grade with my violin teacher Mrs. Nonie Detrick back home in York, PA.
Who is your favorite musician?
My favorite musicians are Eddy Chen and Brett Yang from TwoSet Violin!
What is your favorite SSO moment?
My favorite SSO moment is when the students performed at Mallard Landing last year. It was so nice to perform out in the community and everyone was so kind and happy that we were there. Seeing that your music can bring joy to others is the best feeling!
What is your favorite Dr. Schoyen moment?
My favorite Dr. Schoyen moment is during the concerts when he explains the background to the pieces we're playing and why he picked them to the audience. Concerts are the absolute best part of being a musician in the first place, and it's great seeing how passionate Dr. Schoyen is about the music and seeing him interact with our audience!
What are your future plans and aspirations?
After I graduate, I hope to go to graduate school for a master's in public policy and later work for the government in some capacity as a policy analyst or some similar legislative position.
Community Spotlight
Emily Cook
Emily Cook, an eastern shore local, graduated from Towson University in 2020 with a Bachelor of Science in Music Education. Currently, she works for the Wicomico County Public School System as an elementary music and beginning strings teacher.
Why and when did you start playing music?
I started playing violin in 5th grade when it was offered in our public school system. We have a history of musicians in my family, which really inspired me to play violin. My fellow SSO musician Lisa Adams was actually my orchestra teacher who got me started way back when! She recommended I get private lessons with the late SSO member Richard Leavitt. He was an integral part of my musical journey, along with SSO member Bobbie Thamert during my senior year of high school. Lastly, I can't go without a shout out to my late childhood piano teacher Julie Kolonowski, late middle school orchestra conductor Peter Mundrick, and high school orchestra conductor John Foell.
What are some struggles or challenges, if any, you have overcome in your musical career?
My main struggle I had to overcome was the idea that I have to be perfect. This quote by Beethoven really resonated with me and helped me overcome that unhealthy mindset. "To play a wrong note is insignificant. To play without passion is inexcusable.".
When did you join the SSO as a community member?
This is my first semester in the SSO! I played with the Towson Symphony Orchestra previously.
When you are not performing with the SSO, what do you do?
I am an elementary music teacher in Wicomico County Public Schools. I teach PreK to 5th grade general music, as well as beginning strings.
Tell us something that we would be surprised to know about you.
I used to be a hurdler on the high school track team! I even won the bayside championships for the 100 meter high hurdle race. Not very confident in my ability to start that venture up again. I'll stick to the violin…
Who or what inspired you that was not music-related?
Yoga inspires me because it helps me stay focused on the now. Sometimes I feel like I'm moving a thousand miles a minute, and practicing yoga keeps my mind and body at ease and in control.
Favorite SSO piece of music to play and/or to hear?
I'm really enjoying all the pieces we are learning. Since not having the opportunity to play much during the pandemic, it has been so refreshing to play with an orchestra again!
Favorite Jeff Schoyen conductor story?
Not really a story, but an interesting fact. I've known Dr. Schoyen since I started playing in the Salisbury Youth Orchestra in 8th grade! Still just as tall as I remember him.