Nonprofit Leadership Alliance
Interested in a career in the nonprofit sector?
Salisbury University in partnership with the Nonprofit Leadership Alliance (NLA) offer the Certified Nonprofit Professional (CNP) credential to SU students. The program is open to students from any major, even graduate students, and pursuit of the certificate typically should not prolong time required to graduate.
Want to become a Certified Nonprofit Professional (CNP)?
Requirements:
Students in the Nonprofit Leadership Alliance certificate program:
Receive real-world nonprofit training
Complete an internship that leads to professional development
Gain experience in program planning and fundraising
Earn a national certificate that allows you to network beyond our university
Apply for: Salisbury's Promise Scholarship Application
Again:
Enroll in IDIS 350 Fall 2023 (Nonprofit Leadership) or register in CNP Central ($100 fee applies - contact Dr. Bown for fee waiver eligibility)
Contact Dr. Bown at cdbown@salisbury.edu  with any question and to design your own customized nonprofit certification plan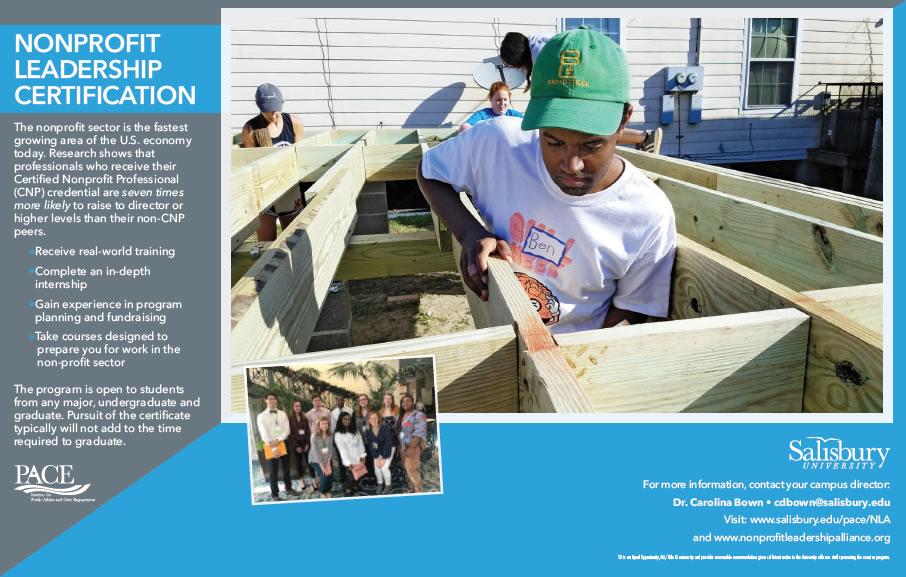 You are on the path to be a certified nonprofit professional!