Voting and Political Action
General Election, Maryland State and County: Tuesday, November 7, 2023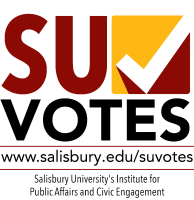 Early voting places:
Wicomico Youth Civic Center, 500 Glen Ave, Salisbury, MD 21804
First Baptist Church, 528 Booth St, Salisbury, MD 21801
Mail in ballots can be dropped at the same places
Be part of the SUVotes Team
SU Votes Ambassadors are responsible for engaging the campus community in an effort to increase voter turnout. Ambassadors will work tabling events around campus to encourage students to sign up for TurboVote, register to vote, and cast ballots. Enthusiasm for voting and getting others to vote is required for this position. This position is non-partisan and is interested in getting people of all political ideologies involved in voting. If you are interested in being an Ambassador contact Dr. Joshua Bolton (jpbolton@salisbury.edu). 
Political Action Information