PACE Showcase and Nonprofit Summit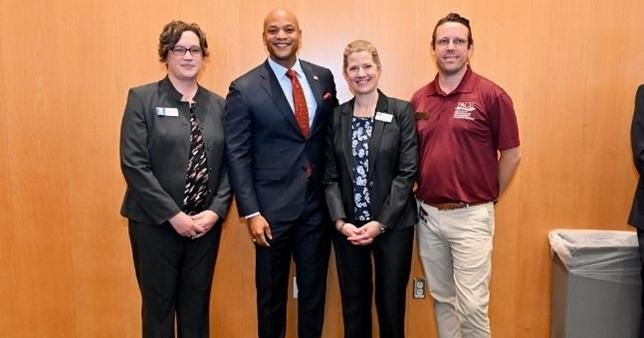 Thursday, April 27, began a two-day celebration of collaboration for PACE.
First, the PACE Showcase was a chance for our community and campus to celebrate some of the many partnerships between Maryland's Eastern Shore and Salisbury University. Over 125 attendees got to learn about ongoing partnerships, form new connections and meet the people doing excellent public work in our area. The showcase, held in the Guerrieri Academic Commons Assembly Hall included three student project presentations; announcements from NLA, ShoreCorps and PACE; seven research poster presentations; and 12 community partner tables. This event, hosted by PACE, allowed students to showcase the projects they've been working on in their community and opened opportunities for conversation.
The collaboration moved into the evening with a speed networking social. Hosted in partnership with the Community Foundation of the Eastern Shore and the United Way of the Lower Easter Shore, and with funding from CareFirst, this was a new opportunity for nonprofit leaders to meet and mingle with one another. Timed prompts helped generate conversation, and bingo cards encouraged people to expand their networks.
The celebration resumed on Friday, April 28, with the Lower Shore Nonprofit Summit: Together for Good. This event was the region's premier nonprofit sector professional development opportunity. Over 160 people from 50 different organizations were in attendance and contributed to making this event so great. This was a partnership between PACE, the Community Foundation of Eastern Shore and United Way of the Lower Eastern Shore. Across the day, attendees enjoyed breakfast, lunch and four rounds of concurrent sessions with multiple nonprofit leadership topics.
Governor Wes Moore, who headlined this event, gave opening remarks to start us off. Moore highlighted the importance of involving everyone in creating a bright future for all of Maryland, and he punctuated his administration's choice to spend his 100th day in office on the Shore. Dr. Chrys Egan led the lunch plenary, highlighting many of the excellent campus programs that benefit from close partnerships with the community. She spoke about PACE, REACH, the Center for Healthy Communities and the general approach to interdisciplinary problem solving that makes student learning feel authentic.
The PACE Showcase and Nonprofit Summit offered students, faculty and community members the opportunity to engage and learn about what students and different organizations around your community are doing to make it a better place.
For more information on these partners, visit:
PACE: www.salisbury.edu/pace
Community Foundation of the Eastern Shore: www.cfes.org
United Way of the Lower Eastern Shore: www.uwles.org
REACH: https://www.salisbury.edu/administration/academic-affairs/reach/
Center for Healthy Communities: www.salisbury.edu/chc