Thursday, November 7, 2013
Ward Museum Carving Club to Donate Eagle-Head Walking Sticks to Veterans Nov. 19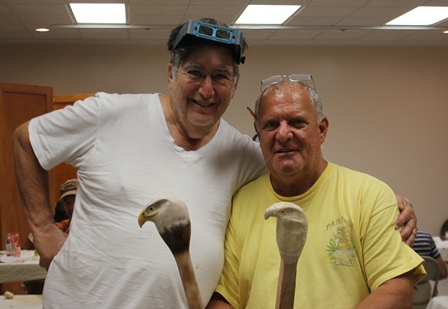 From left: Dr. Barry Hoffman and Mark Gizzi show two of the walking sticks to be donated, still in progress.

SALISBURY, MD---The Ward Museum of Wildfowl Art, Salisbury University, hosts a presentation of hand-carved eagle-head walking sticks to local veterans 2 p.m. Tuesday, November 19.

Individual artists from the Ward Museum Carving Club present the walking sticks to 12 veterans during a ceremony in the museum's lobby. At the conclusion of the presentation, the carvers will custom fit the sticks to each veteran. The Wicomico High School ROTC presents flags during the ceremony. Admission is free and the public is invited.

Seeking a way to give back to the community through their art, members of the carving club learned of similar programs across the United States that honored wounded veterans in this way, including the Eagle Cane Project founded in 2004. The club has been working on its eagle-head walking sticks since August.

Knotts Knives by Cousins, a local carving supply company, helped in the endeavor by donating the wood and patterns for the project. Each eagle head is uniquely carved from basswood and has intricate carved details and woodburning. Each head is then attached to the walking stick.

In coordination with Salisbury Veterans of Foreign Wars Meuse Post 194, the club presents the walking sticks to local veterans who have served in wartime since World War II.

The practice of honoring service men and women through a cane presentation ceremony dates to the Civil War as a sign of respect and honor for wounded troops. The bald eagle carved onto the cane is emblematic of service, as a symbol of the United States. Additionally, Native Americans believed that warriors wounded on the battlefield returned as eagles. The presentation honors veterans for personal sacrifice.

The Ward Museum honors all veterans year-round with free admission to its galleries.

The carving club meets monthly on the first and third Tuesdays from 1:30-4:30 p.m. in the museum's Education Room.

For more information about the museum and its programs call 410-742-4988 or visit the Ward Museum website at www.wardmuseum.org.