Thursday, November 7, 2013
Tickets Available for Delmarva Public Radio 'Silent Night Out' Fundraiser Sunday, December 8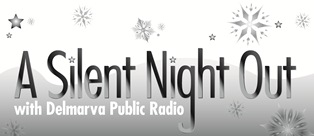 SALISBURY, MD---Award-winning band Naked Blue performs at the historic Avalon Theatre in Easton, MD, during Delmarva Public Radio's "A Silent Night Out" fundraising event 3:30-7:30 p.m. Sunday, December 8.
Naked Blue lead singer Jen Smith has been named the Washington Area Musician's Association's Best Female Vocalist in multiple categories, including rock/pop, contemporary folk and roots/country. The internationally touring folk/pop band has released six albums, including this year's Weightless, and performed with artists such as Joe Cocker, John Mayer, Kenny Loggins, Dan Fogelberg, Debra Harry and Foreigner. Its music has been heard on TV shows including America's Next Top Model and The Young & the Restless.
Jazz musician Paul Cullen, formerly of Bad Company, is the evening's master of ceremonies. The event includes a silent auction, hors d'oeuvres, wine and beer tastings, and raffles.
Tickets are $30 per person or two for $50. A limited number of VIP tickets are $100 each and include a meet-and-greet with Naked Blue, signed posters, complimentary drinks and other items.
For tickets call 410-543-6895 or e-mail Angela Byrd at mabyrd@salisbury.edu. For more information about Delmarva Public Radio visit its Web site at www.delmarvapublicradio.net.