Thursday, October 17, 2013
U.S. Marine Band Returns to SU Saturday, October 26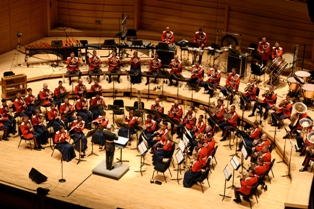 SALISBURY, MD---Established by an act of Congress in 1798 and dubbed "The President's Own" by Thomas Jefferson, the U.S. Marine Band is the nation's oldest professional music organization.

The renowned group returns to Salisbury University 7 p.m. Saturday, October 26, in Holloway Hall Auditorium.

As the only musical organization charged to perform for the president, the U.S. Marine Band has a rich history. The band debuted at the White House on New Year's Day 1801 in a performance for President John Adams. That March, it played during the inaugural of President Jefferson and has performed at every presidential inaugural since.

John Philip Sousa was perhaps the organization's most famous member. As its 17th director, from 1880-92, he shaped the band into a world-famous musical organization. During his tenure, the group became one of the first musical ensembles to make sound recordings. National concert tours began in 1891, and Sousa started writing the marches that earned him the title "The March King."

Sponsored by the Cultural Affairs Office, admission is free and the public is invited. Seating will be on a first-come, first-served basis. No large bags or backpacks will be allowed.

A free parking shuttle is available from Guerrieri University Center Lot D on Dogwood Drive from 6-7 p.m., returning following the concert from 8:30-9:30 p.m.

For more information call 410-543-6271 or visit the SU website at www.salisbury.edu.