Thursday, October 17, 2013
SU Theatre Students Host Wicomico Public Library Puppetry Demonstration Saturday, October 26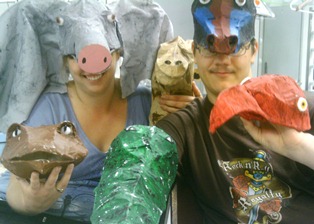 SALISBURY, MD---Tom Anderson of Salisbury University's Theatre and Dance Department and students from SU's Children's Theatre Workshop lead a puppetry demonstration 10 a.m.-noon Saturday, October 26, at the Wicomico Public Library in downtown Salisbury.

The students, whose recent productions include adaptations of Homer's The Odyssey and Rudyard Kipling's Just So Stories, demonstrate acting with puppets. They and Anderson then host a workshop allowing participants to make their own hand puppets. Those wishing to participate are encouraged to bring socks that can be converted into puppets.

Masks and puppets formerly used in SU productions also will be displayed at the library.

Admission is free and the public is invited. For more information call 410-749-3612 or visit the library's website at www.wicomicolibrary.org.

For more information about SU's programs, call 410-543-6030 or visit the SU website at www.salisbury.edu.