Wednesday, November 7, 2012
U.S., International Institutions Turn to Perdue School for Teaching Materials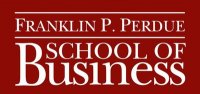 SALISBURY, MD---Case studies by Management and Marketing faculty at Salisbury University's Franklin P. Perdue School of Business are being used by others as teaching tools in the United States and beyond.

According to Academia.edu, approximately 4,000 people from 100 countries have inquired about their studies in the past nine months.

Faculty from universities such as the Massachusetts Institute of Technology (M.I.T.), the University of New Hampshire and the Indian Institute of Management in Calcutta recently requested permission from Dr. Frank Shipper to use case studies in their classes. Much of this research focused on employee-owned companies, which are firms where employees own a significant share of the company stock.

"When I got into this profession about 35 years ago, everyone went to the big schools such as Harvard and M.I.T. to get teaching materials. Now, some of the big-name campuses are coming to the Perdue School for materials," said Shipper, who granted permission to each of the requesting institutions.

Shipper and his colleagues plan to continue research into employee ownership. In addition to academic use, their expertise on employee ownership has been sought out by media outlets including The Wall Street Journal, National Public Radio and MSNBC.

For more information call 410-543-6030 or visit the SU Web site at www.salisbury.edu.