Wednesday, April 26, 2017
Two SU Professors Earn USM Regents' Awards for Excellence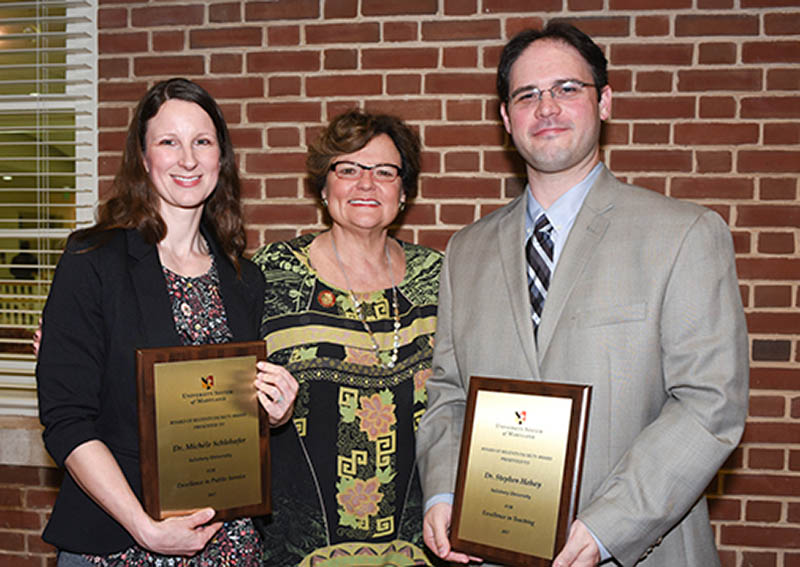 From left, Dr. Michèle Schlehofer, SU President Janet Dudley-Eshbach and Dr. Stephen Habay

SALISBURY, MD---Two Salisbury University professors have earned the University System of Maryland's highest faculty accolade: the Regents' Award for Excellence.

Dr. Stephen Habay of the Chemistry Department was honored for teaching. Dr. Michèle Schlehofer of the Psychology Department was lauded for public service.

"Based on his outstanding and consistent contributions, I would rank Dr. Habay as one of the most talented and committed faculty members with whom I have worked," said Dr. Karen Olmstead, dean of the Richard A. Henson School of Science and Technology. She added: "Chemistry is a difficult subject for many students. Dr. Habay's approaches allow students to intellectually 'own' the material. In formal evaluations, his students commend him for his clarity of instruction, helpfulness, accessibility and high expectations." They also, she added, score much higher than the national average on the American Chemical Society's National Organic Chemistry exam.

Dr. David Rieck, Chemistry Department chair, called Habay an "ideal role model," adding that he uses different strategies to teach students how to learn.

"Because organic chemistry is notoriously difficult for students, it is unusual to hear them rave about an instructor, but they do indeed rave about Stephen," Rieck said. "His caring, compassionate approach inspires his students to do their best."

Even Habay's research is focused on student learning: In 2015, he earned a nearly $300,000 Academic Research Enhancement Award from the National Institutes of Health to expand undergraduate lab opportunities and enhance equipment. He is credited for being "exceptionally active" in mentoring undergrads in his laboratory, including during the summer. His students routinely present at regional and national conferences.

One former student, Joaquin Ramos '14, who is now pursuing a doctor of osteopathic medicine in Philadelphia, said of all his professors and experiences at SU, Dr. Habay had the biggest impact: "He gave me an opportunity that I did not believe previously existed for myself."

Ramos appreciated being encouraged by Habay to apply to do research, and once accepted, having the freedom to design, implement and analyze projects under the professor's guidance. Habay allows students "to experience how it feels to discover," Ramos said, adding that his molecular synthesis work culminated in an article in Journal of Organic Chemistry.



.: Related Sites :.

.: Related News :.

Habay earned his Ph.D. in organic chemistry from the University of Pittsburgh and completed postdoctoral work at the University of California, Irvine, before joining SU's faculty in 2008.

Schlehofer earned her Ph.D. from Claremont Graduate University in California before arriving at SU in 2007. She said: "As an applied social psychology, community involvement is an integral component of my professional identity."

Much of her work has arisen from an ongoing collaborative partnership with the Wicomico Partnership for Families and Children (WPFC). She designed and led its two-year state-mandated needs assessment of programs and resources for parents and children in the county. The effort became a community-based research project for SU students, with over 150 from 11 courses assisting with surveys and interviews.

She also has worked with WPFC on anti-bullying programs in Wicomico County Public Schools (WCPS), providing children with education and bystander intervention training, and developing a public art exhibit documenting their experiences with bullying.

"Michèle's service allowed us to carry out meaningful, research-driven projects that would not have been possible otherwise," said Diana Parnell, former WPFC director, who Schlehofer first reached out to about real-world connections and career opportunities for students. "It is the passion of an individual such as Michèle which makes the difference in communities."

Schlehofer also is involved with community-based education and advocacy efforts for lesbian, gay, bisexual, transgender, queer/questioning, intersex and asexual (LGBTQIA) people. She assisted in designing SU's Safe Space training program. She developed workshops for the Lower Shore LGBTQ Coalition. She helped WCPS create student support groups and clubs. She founded PFLAG Salisbury, Inc. Nationally, she has helped create resources for parents, mental health providers and educators.

Chair of SU's Psychology Department, Schlehofer was SU's 2015 Outstanding Research Mentor; many of her students also have presented regionally and nationally.

"What multiplies the value of her public service activities incalculably is the way in which Dr. Schlehofer also engages her own students with this work," said Dr. Maarten Pereboom, dean of SU's Charles R. and Martha N. Fulton School of Liberal Arts. "She is a powerful role model, but more, students experience for themselves the satisfaction that comes from deploying the research, analytical and communication skills they are learning in psychology for the public good. What could be more empowering?"

For more information call 410-543-6030 or visit the SU website at www.salisbury.edu.