Taylor Earns Outstanding Research Mentor Award
Monday May 6, 2013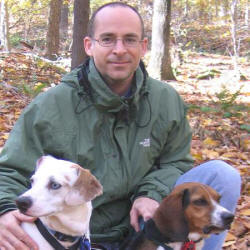 SALISBURY, MD---Dr. Ryan Taylor is known for his dedication to student researchers, from providing lab and presentation support, to offering opportunities to conduct fieldwork with túngara frogs at the Smithsonian Tropical Research Institute in Panama.
The Salisbury University Biological Sciences professor has earned the campus' 2013 Outstanding Research Mentor Award.
"Dr. Taylor includes students in all aspects of his research and he inspires excellence," one nomination letter said. "He has a casual style that is welcoming and fun, while at the same time, his students investigate sophisticated questions about animal behavior. [He] treats his students as colleagues and they rise to the occasion."
He also was applauded for helping students make professional connections, and edit and publish their work.
Taylor said he tries to train students to work as "independent scientists." He added, "My approach is simply to work with [them] as long as possible. I prefer to bring freshmen and sophomores into my research lab."
Selected from among eight honorees, Taylor has earned two National Science Foundation grants totaling nearly $1.5 million for multi-year projects related to frogs, all of which actively involved student researchers.
He is currently working with three graduate and five undergraduate students, who are exploring the evolution of auditory scene analysis, using frogs as a model system.
One mentee credited him with single-handedly molding her enthusiasm for science into "viable theoretical knowledge and valuable analytical skills."
Taylor's research using robotic frogs has been featured in The Wall Street Journal, the Encyclopedia of Animal Behavior, and the popular press book, Calls Beyond Our Hearing: Unlocking the Secrets of Animal Voices. He earned his Ph.D. from the University of Louisiana at Lafayette in 2004 and joined SU's faculty in 2007.
For more information call 410-543-6030 or visit the SU Web site at www.salisbury.edu.
SHARE