Siers Family Celebrates Three Generations at SU
Friday August 4, 2017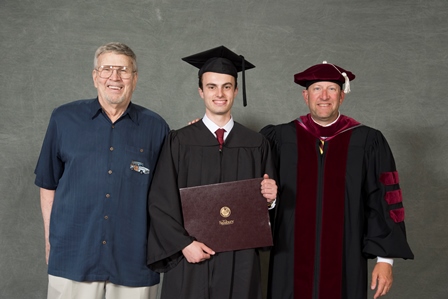 SALISBURY, MD — Some people learn history at their grandfather's knee. For Rex Siers, it will be at his grandfather's side.
Ron Siers Sr., 77, hopes to matriculate along with his 23-year-old grandson in Salisbury University's History Department, in the graduate program, making a little history of their own as the first grandfather/grandson combo, in recent memory, concurrently in the program.
"You want to keep learning, keep your mind going. You want to be a learner until the day you die," said Ron Sr., who dropped out of Memphis State University in 1961 and worked at Perdue Farms for most of his career. He was determined to finish what he started, earning a B.A. in interdisciplinary studies from SU in 2014. Three years later, his grandson graduated from SU with a B.A. in history (with a minor in English), setting up the unique situation, "a once-in-a-lifetime experience," as Rex called it, but one that takes some sacrifice.
"I am blessed to have a lot of support to do this," Ron Sr. said. "There's the patience and understanding of my wife. And my son is an extremely important support system for me."
Ron Jr., conveniently, will be right on campus. He is the chair of SU's Education Specialties Department and, due to a familial condition, bleeds maroon and gold. He has two degrees from SU (plus a Ph.D. from the University of Maryland Eastern Shore). His wife, Stacie, who worked as the department's Professional Development Schools coordinator, also has two SU degrees. Their daughter, Zoe, is an SU undergraduate. Now it is Ron Sr.'s and Rex's turns to get two degrees apiece from SU (which might as well stand for Siers University).
"Rex was always motivated to get his master's degree," Ron Sr. said.
But it wasn't just self-motivation; Ron Sr. played a part, too.
"My grandfather's talks about the Chesapeake and the Great Depression piqued my interest in history," Rex said.
Another influencer was Dr. Joseph Venosa, an assistant professor who teaches classes on African, Middle Eastern and global history at SU.
"I really enjoyed him as an undergraduate," Rex said, "and he's one of the reasons I am pursuing a master's degree and might pursue a doctorate."
Ron Sr. had a similar experience as an undergrad.
"The professors at SU are really great and piqued my interest to pursue the history degree."
Rex most likely will focus on African history as a graduate student, while Ron Sr. intends to concentrate on American history. Two different subject matters, but it doesn't preclude being study buddies.
"I kid him about study sessions," Ron Sr. said. "I also said we should go out and go to a couple of parties. Rex about fainted when I said that."
A graduation party, though, would be a different story. Rex will start the program in Fall 2017, as a graduate assistant, while Ron Sr. plans to begin in Spring 2018. Though Rex will have a semester's head start, Ron Sr. hopes they can receive their diplomas at the same ceremony.
"Graduating together would be the epitome of a wonderful situation for me," he said.
For more information, call 410-543-6030 or visit the SU website at www.salisbury.edu.
Pictured from left, Ron Siers Sr., Rex Siers and Ron Siers Jr. at Rex's 2017 graduation.
SHARE