Friday, August 4, 2017
SU, Life Crisis Center Sign Official MOU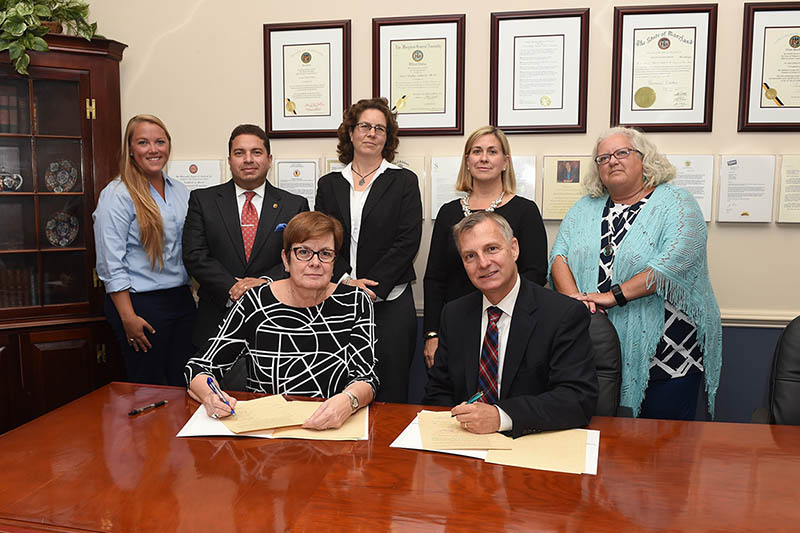 SALISBURY, MD---For many years, Salisbury University and the Life Crisis Center have had a mutual understanding in assisting students and other campus community members who have been victims of rape and other sexual abuse.
Now, it's official.
SU and the Life Crisis Center recently signed a memorandum of understanding, outlining the services each will provide in ongoing efforts to help students and others in crisis situations.
Through the agreement, the center will appoint a coordinator to focus on making services accessible for SU community members referred by the University. The campus community also will have access to the center's 24-hour emergency hotline.
In addition, the center will continue to provide advocates to accompany sexual assault victims from SU during emergency medical treatment and legal proceedings, and assist victims with filling out paperwork to report the crime to SU or off-campus police and SU's Title XI coordinator.
Life Crisis Center representatives also will continue to meet regularly with SU officials to discuss issues including trends in sexual assault services and victim needs, serve as a liaison to SU's Student Health Services and Student Affairs offices, conduct surveys to assess the effectiveness of the center's services, help the University identify patterns of sexual violence and assist with sexual assault prevention training for the SU community.
In exchange, SU also will appoint a central contact for the Life Crisis Center's staff to facilitate referrals for confidential services.
In addition, the University will continue to provide information to the Life Crisis Center on resources available to the campus community, including options for reporting rape and other sexual assaults, identify University employees with whom students may speak confidentially, and coordinate with the center on information, training and victim transportation.
The MOU formalizes many of the initiatives already in place between the Life Crisis Center and the University. It also meets new requirements passed by the Maryland General Assembly that each higher education institution must pursue a formalized agreement with a state-designated rape crisis program.
For more information call 410-543-6030 or visit the SU website at www.salisbury.edu.
Pictured: In front: Recently retired Life Crisis Center Executive Director Michele Hughes and SU Vice President of Student Affairs Dane Foust sign the MOU. In the top row, from left: Kelly Hurley, SU Office of Institutional Equity complaint resolution and compliance specialist; Humberto Aristizabal, SU associate vice president of institutional equity and Title IX coordinator; Jennifer Barnes, SU Office of Institutional Equity compliant resolution and compliance specialist; Life Crisis Center Executive Director Abby Marsh; and Amy Hasson, SU chief of staff.