Monday, March 9, 2015
Senator George Edwards Named SU's 2015 Hargreaves Fellow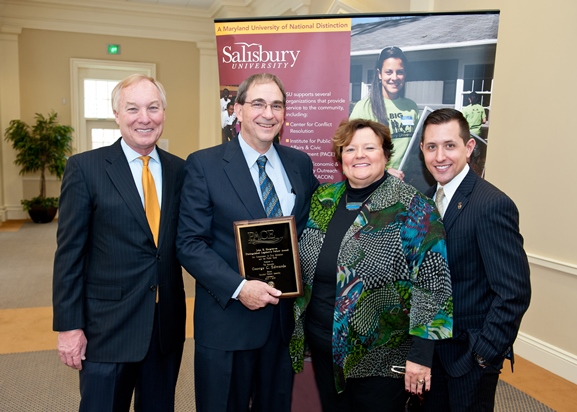 SALISBURY, MD---Maryland Senator George C. Edwards is Salisbury University's 2015 John R. Hargreaves Distinguished Legislative Fellow.

In recognition of outstanding public service, the award was presented by SU President Janet Dudley-Eshbach in a ceremony at the Lowe House Office Building in Annapolis.

"Senator Edwards has given more than three decades of his life to improving the State of Maryland for its citizens," Dudley-Eshbach said. "A shining example of a leader who believes in bipartisanship, he has worked across party lines to support projects and efforts statewide. He has a real commitment to this idea of 'One Maryland.' As politics become more divisive, with extremes on both sides, he stands out as someone who is truly dedicated to what is best for our state, someone who models integrity and thoughtful leadership for our students."

Edwards was elected to the Senate in 2007 after having served in the House of Delegates since 1983. He represents Garrett, Allegany and parts of Washington counties.

A member of the Senate's Budget and Taxation Committee, he sits on the capital budget and the public safety, transportation and environment subcommittees. In addition, he serves on committees for executive nominations, rules, spending affordability and legislative policy. He is a longtime member and former chair of the Joint Subcommittee on Program Open Space and Agricultural Land Preservation.

In the House of Delegates, he was a minority leader and an Appropriations Committee member, serving on subcommittees for the capital budget, transportation, health and the environment. He has been involved with the Garrett County Development Corporation and Tri-County Council for Western Maryland for decades, and has worked on a number of efforts related to education, transportation and economic development.

A native of Grantsville, MD, Edwards earned a B.S. in business administration for Fairmont State University in West Virginia. A National Association of Intercollegiate Athletics All-American fullback, he was drafted by the Baltimore Colts in 1970. He served in the Maryland National Guard for six years. He is married and has two children.

"The Hargreaves Fellowship allows SU students to meet with outstanding state legislators to learn firsthand about the responsibilities and rewards of their work," said Dr. Maarten Pereboom, dean of SU's Charles R. and Martha N. Fulton School of Liberal Arts. "We look forward to Senator Edwards' visit to campus later this spring."

Edwards is the 14th recipient of the Hargreaves Fellowship. Past honorees include House Speaker Michael Busch; Senate President Thomas V. "Mike" Miller; senators J. Lowell Stoltzfus, Brian Frosh, Rob Garagiola and Thomas "Mac" Middleton; and delegates John Bohanan, Talmadge Branch, Addie Eckhardt, Sheila Hixson, Adrienne Jones, Norman Conway and the late Howard "Pete" Rawlings. Sponsored by SU's Institute for Public Affairs and Civic Engagement (PACE), the award was made possible by contributions to SU in memory of the late John R. Hargreaves, a legislator from Caroline County.

Pictured above, from left, is Maryland Comptroller Peter Franchot, Edwards, Dudley-Eshbach, and Robby Sheehan, SU's deputy chief of staff and director of government and community relations.

For more information call 410-543-6030 or visit the SU website at www.salisbury.edu.