Seldomridge Earns USM Regents' Faculty Award for Excellence
Friday April 12, 2013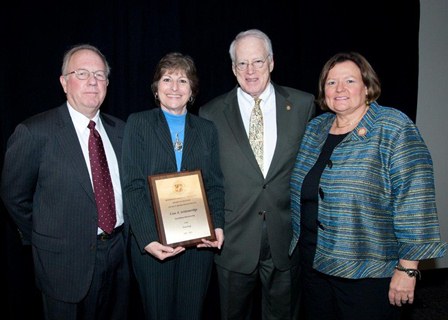 Pictured, from left: USM Board of Regents Chair James Shea, Dr. Lisa Seldomridge, USM Chancellor William "Brit" Kirwan and SU President Janet Dudley-Eshbach.
SALISBURY, MD---Dr. Lisa Seldomridge, chair of Salisbury University's Nursing Department, has received the University System of Maryland's highest faculty honor: the Regents' Faculty Award for Excellence.
The award celebrates her distinguished accomplishments in teaching.
"Dr. Seldomridge is one of Salisbury University's brightest stars," said SU President Janet Dudley-Eshbach. "Her leadership and vision in nursing education are transformative and her energy to go after and win the resources to support nursing educators and students on campus and throughout the region is unmatched."
Seldomridge said she strives to help her students and colleagues reach their full potential: "To be an excellent teacher, one must create opportunities to bring out the best in one's students, colleagues, university and self. These opportunities take many forms, from developing new pedagogies to increase student learning, to providing the tools for faculty to explore new ways of teaching, to mentoring new faculty as they begin careers in academics. For me, excellence in teaching also requires vision, leadership and sustained enthusiasm, especially in this time of limited resources."
Since coming to SU in 1986, Seldomridge has secured more than $4 million in grants. She was instrumental in creating the Richard A. Henson Medical Simulation Center, a state-of-the-art, grant- and donor-funded facility that provides nursing training and educational resources for SU students and medical professionals throughout the region. She also was the prime mover in developing the University's first doctoral program, in nursing practice, launched last fall. Under her leadership, SU students have achieved the highest five-year pass rate (95.29 percent) of all baccalaureate programs in Maryland on the National Council Licensure Examination for Registered Nurses (NCLEX).
In addition, Seldomridge has been lauded for her work in the classroom, which recently earned her a Council for the Advancement and Support of Education (CASE)/Carnegie Foundation for the Advancement of Teaching U.S. Professor of the Year nomination. Recognizing needs in nursing education, she also has secured grant funding for student scholarships, faculty development, clinical educators and course design, including a best practices course.
Beyond SU, she has partnered with area community colleges to establish the Eastern Shore Nursing Faculty Academy and Mentoring Initiative, which helps prepare quality adjunct faculty for local campuses. She has published several peer-reviewed articles and made invited presentations on topics including nursing pedagogy. She also has provided consultation for the Commission on Collegiate Nursing Education and serves organizations including the Maryland Council of Deans and Directors of Associate/Baccalaureate Degree Programs.
Seldomridge's "vision, leadership and professionalism are assets to the University of Maryland System, policymakers, health care leaders, nursing faculty and educational programs who share the mission of … educating and developing most highly qualified and skilled nursing professionals to care for our citizens," said Dr. Karen Olmstead, dean of the Richard A. Henson School of Science and Technology. "She epitomizes the essentials for undergraduate educators, excelling in teaching and positively influencing the lives and careers of students, faculty and her professional colleagues."
Karen Poisker, vice president of continuum services and chief nursing officer at Peninsula Regional Medical Center, a partner for SU nursing interns and clinical instructorships, agreed: "It is very clear that Lisa is committed to ensuring that students are successful in their chosen fields of practice and work by the way she approaches student development, and by the manner in which she has structured teaching and learning opportunities for nursing and other clinical practitioners."
For more information call 410-543-6030 or visit the SU Web site at www.salisbury.edu.
SHARE