Monday, October 17, 2011
Science Nights @ SU Begin Oct. 27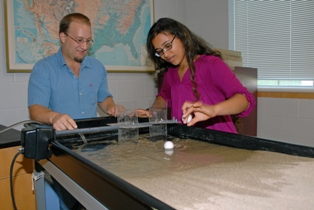 SALISBURY, MD---Interested in mathematics or the sciences? Salisbury University again offers its free Science Nights @ SU program for high school students.

During sessions, experts explore various math- and science-related fields, discussing current research, career options and more. All Science Night presentations are 6-8 p.m. in Henson Science Hall Room 341.

The four-part series begins Thursday, October 27, with a session on Engineering and Physics presented by Drs. Mark Muller, Jeffrey Emmert and Gerardo Vazquez.

"Physics is the most basic of the natural sciences and is crucial to developing an understanding of how the universe and everything in it works," Muller said. "Engineers use this understanding to develop technologies that allow us to do more in work and play. As physicists, students will explore and learn about black holes. As engineers, students will design and build black holes."

SU physics alumnus Doug Martin, who currently works for NASA at the Wallops Island Flight Facility, also speaks.

Other upcoming topics include:
• Math and Computer Science on Wednesday, November 16
• Earth and Atmospheric Science on Thursday, February 23
• Chemistry on Wednesday, March 28

The sessions are open to all high school students from the local region and beyond, especially those considering careers in the growing fields of science, technology, engineering and mathematics (STEM).

For more information or to register, visit the SU STEM Web site at www.salisbury.edu/henson/stem/sciencenights. For questions about Science Nights @ SU, contact SU STEM Coordinator Kristen Edwards at 410-677-5368 or kaedwards@salisbury.edu.