Monday, March 14, 2011
Salisbury Symphony Orchestra Silver Anniversary Gala Saturday, March 19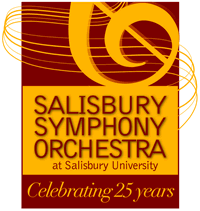 SALISBURY, MD---For 25 years, the community and Salisbury University have been making beautiful music together through the Salisbury Symphony Orchestra (SSO).

Now it's time to celebrate!

The SSO holds its silver anniversary gala Saturday, March 19, in the Commons at SU. Cocktails begin at 6 p.m., followed by dinner. Entrees range from seafood to vegan. The black tie-optional party includes special guests from the orchestra. The evening features harp and piano music and a string quartet, as well as dancing to The Jazz Guys. Tickets are $125 per person.

"Fifty dollars of the total price is a tax-deductible donation, so in essence, for $75, you get a cocktail hour, dinner and dancing, and a lot of fun with your friends," said Kimberly Roemer Granger, gala co-chair.

Table discounts and sponsorships are available. Current sponsors include Public Radio Delmarva, The Peter and Judy Jackson Music Performance Fund, and Grape and Vine Flowers.

"To have something like the orchestra in our backyard is exceptional … but music costs a lot of money," said Judy Jackson, gala co-chair. "Our goal is not only to celebrate the first 25 years of the SSO, but to ensure it continues for another 25 and then some."

For SSO conductor and music director Jeffrey Schoyen, the organization's future success lies not only in financial stability, but in continuing to foster the town-gown relationship that has allowed the SSO to flourish during the past quarter century:

"The marriage between the University and the community has really worked out for the orchestra. At a time when even large, major orchestras are having financial problems, a situation like the one we have here, with the community and the University both being involved, allows us to play off one another's assets."

SSO Chairperson of the Board Mellinda Brandon sees the orchestra not only as a musical organization, but an institution with the ability to broaden horizons:

"If I could impart one message to the people within the orchestra's reach, it would be to rethink your position on classical music, avail yourselves and your children of the extraordinary opportunity that we are so fortunate to have in our midst, and prepare to reap the rewards that flow from music meant for the ages. Surprise yourself!"

To reserve tickets for the gala or for more information, call 410-548-5587 or visit www.salisburysymphonyorchestra.org.