Wednesday, November 18, 2015
Salisbury Film Society Presents 'Boy' December 6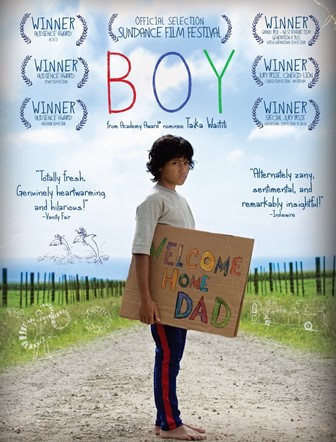 SALISBURY, MD—The Salisbury Film Society (SFS) presents the comedy Boy 2:30 p.m. Sunday, December 6, in Fulton Hall 111.

Set in 1984 New Zealand, 11-year-old Michael Jackson fanatic "Boy" (James Rolleston) has the adventure of his life. With his mother dead and father estranged, Boy becomes the head of a household full of kids when his Nana leaves town for a funeral. The boy learns life is far different than he imagined when his once idolized father returns home to find a bag of money buried long ago.

"James Rolleston is so right as Boy, it's difficult to imagine anyone else," said Roger Ebert, the late critic of the Chicago Sun Times. Steven Rea of Philadelphia Inquirer saw "a funny and affecting coming-of-age story rendered with heart, and with nuttiness."

The SFS series is co-sponsored by the Salisbury Wicomico Arts Council (SWAC) and SU's Charles R. and Martha N. Fulton School of Liberal Arts. 2015 Distinguished Faculty award-winner and New Zealand native Dr. Elsie Walker of SU's English Department will lead a group discussion following the screening.

Tickets are $9, $8 for SWAC members, free for college and university students with ID. For more information call 410-543-ARTS (2787) or visit the SWAC website at www.543arts.org.