Wednesday, November 18, 2015
Gorrow Signs 'Bald Eagle' Book at Smithsonian Holiday Festival Dec. 5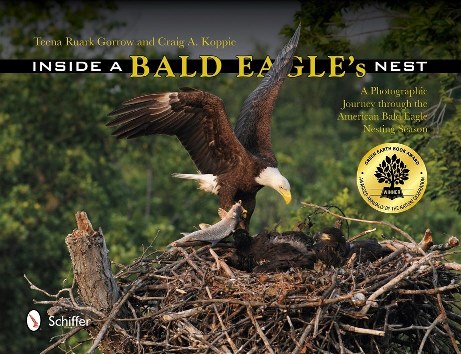 SALISBURY, MD---A Salisbury University professor celebrates America's national bird during the Smithsonian's Holiday Festival in the nation's Capital.

Dr. Teena Ruark Gorrow of SU's Teacher Education Department and Craig Koppie, an eagle/raptor biologist with the U.S. Fish and Wildlife Service Chesapeake Bay Field Office, sign copies of their book Inside a Bald Eagle's Nest: A Photographic Journey through the American Bald Eagle Nesting Season from 2-4 p.m. Saturday, December 5, at the Smithsonian's National Museum of Natural History in Washington, D.C. (10th St. and Constitution Ave., NW).

The book won The Nature Generation's 2014 Green Earth Book Award for Young Adult Nonfiction.

Collaborating as the book's authors and photographers, Gorrow and Koppie explore the Chesapeake Bay bald eagle's nesting season through 160 images captured in natural habitats. They offer a rare glimpse of it preparing a nest and raising its young.

Although no longer endangered, the American bald eagle still faces serious threats to survival. Gorrow and Koppie hope that Inside a Bald Eagle's Nest will inspire others toward species and habitat protection.

Encouraging the use of their book as a learning resource, they partnered with national organizations including National Eagle Center, American Eagle Foundation, Folkmanis Puppets, Cornell Lab of Ornithology NestWatch, Pennsylvania Game Commission and Chesapeake Conservancy. Inside a Bald Eagle's Nest also is available through online booksellers including Amazon, Barnes & Noble, Books-A-Million and Schiffer Publishing, Ltd., as well as some 30 Delmarva retailers.

For more information call 410-543-6030 or visit the SU website at www.salisbury.edu.