Wednesday, August 10, 2016
SU's Todd Places at National NATS Singing Audition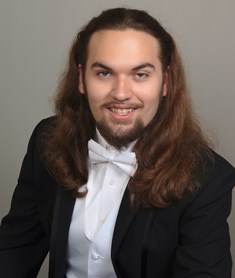 SALISBURY, MD---Sophomore Jeffrey Todd of Salisbury recently became the first Salisbury University student to place in the National Association of Teachers of Singing (NATS) national auditions.

The music major took third place in the Lower College Men/Independent Studio Classical Music category of the competition, held during the 54th annual NATS conference in Chicago. His performance of three pieces — "Ha! Welch' ein Augenblick!" from the Beethoven opera Fidelio, Ralph Vaughan Williams' "The Call" and "Pieta Signore," an early Italian art song attributed to Stradella — earned him the title as well as a cash prize.

Prior to the national competition, Todd placed first at the Maryland/Washington, D.C. and Mid-Atlantic regional levels for his performances of classical repertoire. At the national event, competitors from around the country are judged on tone quality, vocal technique, body alignment/freedom, artistry, musicianship and effectiveness of communication.

"Just think," said Dr. John Wesley Wright, voice instructor in SU's Music, Theatre and Dance Department. "There were hundreds of competitors at the state levels, hundreds at the regional level, 43 for a YouTube round, 14 for the national semifinal round and four for the national final round, and he was right there, neck-and-neck with the two who tied for first, both sophomores."

The main difference between the national competition and those leading up to it was the audience. At lower levels, NATS competitors perform solely for a panel of judges. At the national competition, they are required to sing three songs of contrasting styles and choose their best to perform before a public audience for the final round.

Todd wowed the crowd with his rendition of "Ha! Welch' ein Augenblick!," which he selected because he considered it the most complex — and correctly assumed that his competitors would be making their decisions based on similar criteria.

The SU student has impressed audiences at the local level, as well. Earlier this year, he received the Salisbury Wicomico Arts Council's competitive $1,000 Herbert D. Brent Arts Scholarship to help support his study of music at SU.

Though his current concentration is on vocal performance, with a focus on German music, he plans to delve into courses offered by SU's Modern Languages and Intercultural Studies Department, as well.

"I will need to have a decent understand of the opera languages — mainly Italian, German and French," he said.

This academic year, he also will begin taking classes in organ music, inspired by his grandmother, Ocean City, MD-based organist June Todd.

For more information call 410-543-6385 or visit the SU website at www.salisbury.edu.