Tuesday, September 16, 2014
SU's Taylor Earns $50K USM Elkins Professorship for 2014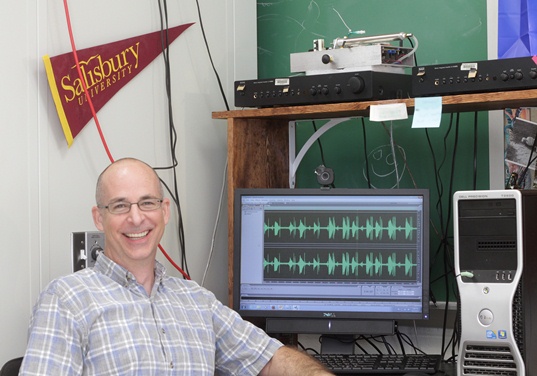 SALISBURY, MD---A Salisbury University professor has won one of the University System of Maryland's most distinguished awards, which includes a $50,000 prize.

Dr. Ryan Taylor of SU's Biological Sciences Department has received the Wilson H. Elkins Professorship. The honor will help him continue his field research on túngara frogs at the Smithsonian Tropical Research Institute in Panama.

"While making outstanding contributions in teaching, [Dr. Taylor] also leads the campus in scholarly productivity with his internationally recognized research on the evolution of animal communication," said SU President Janet-Dudley-Eshbach. "In just the past year, he taught courses, mentored 12 research students, co-authored two papers in Science, maintained active research projects in the U.S. and Panama, and provided outreach to improve public understanding of evolution and the scientific process."

Taylor has earned two National Science Foundation grants totaling nearly $1.5 million for multi-year projects related to the frogs. He won SU's Outstanding Research Mentor Award in 2013. His studies using robotic frogs have been featured in National Geographic, The Wall Street Journal, The Smithsonian, the BBC nature documentary "Talk to the Animals," and the book Calls Beyond Our Hearing. He earned his Ph.D. from the University of Louisiana at Lafayette in 2004 and joined SU's faculty in 2007.

"This award will help to maintain my tropical research program (ongoing for 10 years) and help to ensure the future production of both quality science and student training," said Taylor. "Together with my colleagues and students, we have elucidated important evolutionary processes that explain how acoustic signals evolve in animals. In addition, this work has provided profound insights into basic auditory perception by the vertebrate brain, including human speech perception."

The Elkins Professorship was established to perpetuate the contributions of Wilson Elkins, a Rhodes Scholar and the University of Maryland's president from 1954-1978. When the system began in 1988, Elkins extended his professorship to the entire USM. Elkins professors demonstrate achievement in their field, the ability to inspire students and pursuit of scholarly/professional endeavors within and beyond the USM.

Eight other SU faculty have earned the professorship: Dr. K. Peter Lade of the History Department in 1999; Drs. Harry Basehart and Fran Kane of the Institute for Public Affairs and Civic Engagement, together, in 2004 and 2005; Dr. Brian Polkinghorn of the Center for Conflict Resolution in 2007 and 2008; Dr. Michael Scott of the Eastern Shore Regional GIS Cooperative and Dr. Danny Ervin of ShoreENERGY in 2009; and Drs. Michael Lewis of Environmental Studies and Jill Caviglia-Harris of Economics and Finance and Environmental Studies, together, in 2012 and 2013.

For more information call 410-543-6030 or visit the SU website at www.salisbury.edu.