Monday, November 17, 2014
SU's Ratti Earns Prestigious Fellowships in India, Australia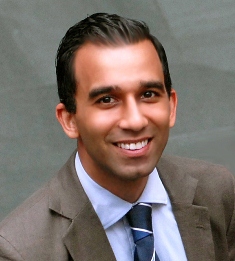 SALISBURY, MD---In his 2013 book The Postsecular Imagination: Postcolonialism, Religion and Literature, Dr. Manav Ratti of Salisbury University's English Department tackled two controversial subjects: religion and politics.

Now, he's hoping to add justice to the list.

Building on his work for The Postsecular Imagination, he is now researching postcolonial justice in law and literature, how they intersect and how they can "inform one another to address some of the most intriguing and compelling issues of our time" in areas including South Africa, the Middle East, Australia and South Asia, he said.

"This is justice in the broadest sense, as what some philosophers call the highest virtue," he added.

The project has led to prestigious fellowships at two of the world's leading universities — Jawaharlal Nehru University (JNU) in India and Australian National University (ANU).

During his fellowship at JNU last summer, Ratti not only was able to conduct research and present lectures, but also used the experience to create a new SU course, "Literature of India." Available for the first time next spring, the class was filled within the first several days of student sign-ups.

"I'm just amazed by the response," he said.

His JNU experience also led to a memorable encounter with Indian literary luminary Manoj Das, who praised Ratti's writing and invited the SU professor to his home for a discussion. Meeting Das and other literary leaders from India was, in some ways, surreal, Ratti said.

"I teach their work here [at SU], and to talk to them directly was a great honor and privilege," he said. "It was an exciting opportunity to research the Indian aspect of the project."

He hopes for similar experiences at his fellowship at Australian National University, scheduled this summer. The institution boasts six Nobel laureates and two Australian prime ministers among its alumni. Previous fellowship recipients there include leading postcolonial studies scholars from Oxford, Columbia and Duke universities.

In the meantime, critics continue to laud The Postsecular Imagination, the first edition of which sold out during its first year. It was re-released in paperback earlier this year. Graham Huggan, editor of The Oxford Handbook of Postcolonial Studies, called it one of "three important monographs signaling a 'post-secular' turn in postcolonial theory and criticism." Neil Wilson, founding director of the Ottawa International Writers Festival, at which Ratti spoke last year, said his presentation "to a full house of inquisitive minds was one of the highlights of the past number of years."

For more information call 410-543-6030 or visit the SU website at www.salisbury.edu and the book's website at www.manavratti.com.