Friday, September 30, 2011
SU's Perdue School Offers Leadership Academy Courses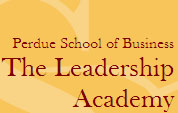 SALISBURY, MD---Salisbury University's Franklin P. Perdue School of Business is committed not only to training the leaders of tomorrow, but today's executives, as well.

Through a new Leadership Academy, in partnership with Lead Your Way Solutions, LLC, the Perdue School offers accelerated programs for regional business leaders that help develop a new breed of executive using the Socratic method and high personal accountability.

"Business is growing more competitive each day," said Dr. Bob Wood, dean of the Perdue School. "In the past, managers could grow into the role of being a leader. Today's managers do not have that luxury, as the time for leadership is now. The courses within the Leadership Academy provide the knowledge and skill set necessary to lead today."

Led by Mike Nally, founder of Lead Your Way, fall course offerings include:

The Leader in You – Thursdays, October 27, November 10 and December 8. This course includes a personal and peer evaluation of leadership impact, style, influences and possibilities. Participants will evaluate their current leadership effectiveness, learn the "Be, Do, Cause" leadership methodology, and gain knowledge of personal leadership strengths, filters and coping mechanisms.

Communicating Like a Leader – Fridays, October 28, November 11 and December 9. This course is an experiential seminar, offering tips for improving communication skills and message effectiveness. Participants will learn about communication strategies, conflict resolution methods, public speaking, one-on-one counseling and persuasive communication.

"Mike's ability to share his 'Be, Do and Cause' principles and guide discussion with each person around those principles is one of the finest demonstrations I've seen of adult learning," said Dr. William McGowan, director of the University of Delaware's Coastal Community Enhancement Initiative.

All sessions are from 8 a.m.-5 p.m. in SU's Perdue Hall. Room numbers will be given to participants upon registration.

Cost is $2,900 per course. Each course consists of three days of instruction and an online component between classes. Those attending two of the courses receive a discounted rate of $2,700 for the second.

Enrollment is limited to 15 people per course. To register visit www.salisbury.edu/leadershipacademy.

Additional leadership topics are offered in half-day sessions on select Wednesdays from 8 a.m.-noon. Topics include "Best Practices in Leadership" on October 19, "Aligning your Organization for Success" on November 2, "The Resourceful Leader" on November 16 and "The Creative Leader" on December 7. Registration cost for each half-day session is $290, which may be credited to registration for either of the three-day fall course offerings.

For more information call 410-543-6316 or e-mail leadership@salisbury.edu.