SU's McNeill Completes Slovenia Summer Fellowship
Thursday August 13, 2015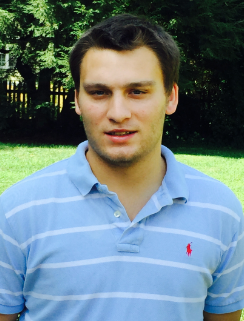 SALISBURY, MD---When Salisbury University senior Cyril McNeill's grandparents fled Slovenia for the United States in the 1940s, they sought freedom from a growing communist regime.
This summer, the economics major from Chevy Chase, MD, spent 10 weeks in their home country, not only learning about his heritage, but conducting economic research through the Slovenia Summer Fellowship. The prestigious award provides study exchange opportunities for students in the U.S. and Slovenia.
For McNeill, the program was the opportunity to see firsthand a country he heard about from his grandfather, who had been a university professor there. Perhaps more importantly, he was able to see Slovenia the way his grandfather remembered it, as a free nation. The country regained its independence in 1991.
"I wanted to see Slovenia the way it is now," he said. "I got to see where my grandmother grew up."
He also witnessed a piece of family history still intact in the country, discovering that a plaque bearing his great-grandfather's name still existed in the town where he had been mayor during the early 20th century.
Beyond genealogical connections, McNeill's research taught him about the nation's economy. One project, studying the effects of corruption on Slovenian society, allowed him not only to consult source documents, but conduct interviews with people who had been involved in or affected by the incidences on which he focused.
With Dr. Hong Yao of SU's Economics and Finance Department, he also researched ways the country could become more economically competitive in the global economy. He will present his findings, "Income Equality and Global Competitiveness — the Case of Slovenia," at the 26th annual American Society for Competitiveness conference in Washington, D.C., this fall.
While he is looking forward to sharing his research, he is already reaping other rewards that often accompany study abroad opportunities.
"It gave me a unique point of view," he said of his experience. "In the U.S., you have one perspective, but going to another country allows you to see differences in the world, in the way different governments operate, and in the people."
For more information call 410-543-6030 or visit the SU website at www.salisbury.edu.
SHARE