SU's Kotlowski Featured in New Documentary, 'Rescue in the Philippines'
Thursday March 28, 2013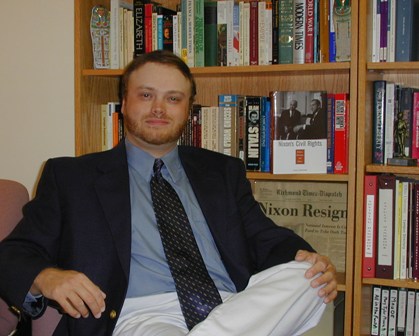 SALISBURY, MD---Dr. Dean Kotlowski, professor of history at Salisbury University, is featured in the documentary Rescue in the Philippines: Refuge from the Holocaust, debuting locally 9 p.m. Wednesday, April 3, on WCPB2, an affiliate of Maryland Public Television.
MPT also airs the film 9:30 p.m. Tuesday, April 9, on WCPB in Salisbury. The documentary is scheduled to run on more than 200 public television stations in the United States and has seen international interest from countries including Australia and Pakistan.
The one-hour film shares the previously untold story of how five Cincinnati brothers helped some 1,200 Jews escape persecution in Germany and immigrate to Manila in the late 1930s. They received assistance from Manuel Quezon, the charismatic first president of the Philippines; U.S. high commissioner and former Indiana governor Paul McNutt; and future President Dwight Eisenhower, then a colonel in the U.S. Army.
The New York Times calls the documentary "fascinating," adding that it celebrates "a little-known chapter of World War II heroism that is as heartbreaking as it is courageous. … In telling their stories, the former refugees and the proud descendants of the leaders involved can finally publicly express their enduring sense of gratitude and faith in humanity.
"Ultimately, this compelling story will leave viewers wanting even more information about this mission and the daily lives of the émigrés in Manila."
The Los Angeles Times agrees, calling it "gripping."
Kotlowski, a presidential scholar, has extensively researched the life and career of McNutt, a diplomat under President Franklin D. Roosevelt with aspirations to become president himself. Kotlowski's book Paul V. McNutt and the Age of F.D.R. is scheduled for publication by Indiana University Press.
In 2008, Kotlowski taught American studies in the Philippines as a U.S. Fulbright Scholar at De La Salle University in Manila. The critically acclaimed author of Nixon's Civil Rights: Politics, Principle and Policy, he also is recognized as a leading Nixon researcher. In 2010, he received SU's Distinguished Faculty Award.
Kotlowski has appeared on C-SPAN multiple times during panel discussions and lectures filmed at the Richard Nixon Library and Birthplace at Yorba Linda, CA, as well as at SU. In addition, he has been interviewed by National Public Radio and U.S. News & World Report, among others.
For more information call 410-543-6030 or visit the SU Web site at www.salisbury.edu.