Friday, April 8, 2016
SU's Hamilton Part of $1.8M NSF Project on Lake Victoria Aquaculture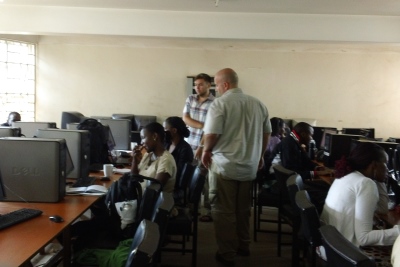 SALISBURY, MD---A Salisbury University professor and student are assisting with a nearly $1.8 million National Science Foundation (NSF) project that is examining aquaculture in Africa's Lake Victoria.

Dr. Stuart Hamilton of SU's Geography and Geosciences Department is a co-principal investigator on the team, which also includes researchers from the University of Denver and Boston University. Graduate student Matthew Caddenhead is the first of two SU research assistants working on the project.

The team is investigating the potential for aquaculture in Lake Victoria and the implications for wild fisheries and fish commodity markets. They are exploring the bridge aquaculture creates, linking the ecology of the lake (a natural system) with the economy of its surrounding fisheries (a human system).

Hamilton is responsible for designing environmental suitability models for various fish species at different stages in their life cycles. He believes the project will contribute to improve food and income security in East African nations that rely on the natural capital provided by Lake Victoria.

The $1,798,150 grant was one of 16 projects funded by NSF's Dynamics of Coupled Natural and Human Systems program in 2015. All of the projects, totaling some $20.4 million, involve research on how humans and the environment interact.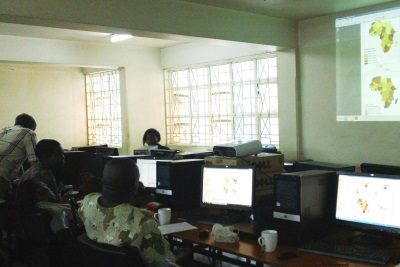 Caddenhead is the first fully funded graduate research assistant to work on an NSF award in SU's Department of Geography and Geosciences. He receives full tuition and fees for his M.S. in Geographic Information Science (GIS) Management at SU, plus a $12,000 annual stipend and the chance to work in Africa.

"SU has opened many doors for me," said Caddenhead, who earned a B.S. in GIS from SU in 2014. He returned for his master's after hearing about the NSF project. So far, he has helped develop spatial inputs for the ecosystem modeling software and attended a planning meeting in Boston.

The project is benefitting Caddenhead academically and professionally. "I have already become a stronger analyst," he said. "Exposure to this large research team has changed how I approach socioeconomic, ecological and spatial problem sets."

A native of Crofton, MD, he currently lives in Berlin, MD, with his wife. After graduation, he hopes to get involved with GIS/environmental consulting thanks, in part, to the skills taught in the master's program in tandem with the Lake Victoria research.

Hamilton joined SU's faculty in 2014. He earned his Ph.D. in Geography from the University of Southern Mississippi in 2011, winning that year's top doctoral dissertation award for his study of "The Impact of Shrimp Farming on Mangrove Ecosystems and Local Livelihoods along the Pacific Coast of Ecuador." He is the recipient of an $83,000 Prometheus Fellowship from the Ecuadorian government to explore the impacts of land-use and land-cover change, and causes of sedimentation, in that country's Chone Estuary.

Pictured is Hamilton (top, center) teaching GIS in Uganda on a previous trip to Africa.

For more information, call 410-543-6030 or visit the SU website at www.salisbury.edu.