SU's Clements Earns USM Board of Regents' Staff Award for Excellence
Monday September 18, 2017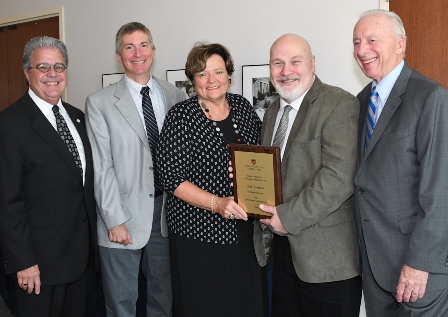 SALISBURY, MD---In Salisbury University's Richard A. Henson School of Science and Technology, students study in cutting-edge environments.
Thanks to Paul Clements, the school's engineering technician, however, maintaining state-of-the-art equipment does not necessary mean breaking the bank. In the past three years, his in-house design, fabrication and repairs have saved SU an estimated $132,000.
For his efforts, he recently received one of the University System of Maryland's highest honors: the Board of Regents' Staff Award for Excellence.
Recognized specifically for Effectiveness and Efficiency, Clements has been a part of the Henson School for more than 27 years — nearly as long as the school has existed.
"Salisbury University is often lauded for our ability to do more with less, resulting in a high degree of efficiency and effectiveness," said SU President Janet Dudley-Eshbach. "Staff like Paul Clements are the reason we can achieve such a high mark, building upon our reputation as A Maryland University of National Distinction."
Since 2014, Clements has performed some $17,000 worth of repairs on major medical equipment, including a defibrillator and ultrasound machine; $25,000 in repairs to a Henson School centrifuge; and some $10,000 in repairs to cameras for SU's Richard A. Henson Medical Simulation Center.
Repairing this equipment in-house instead of using off-campus vendors or replacing it outright has allowed the University to save thousands of dollars, according to Clements' nominator, Dr. Karen Olmstead, interim provost and vice president of academic affairs, and former dean of the Henson School.
"All of these activities require a diverse array of technical infrastructure, spanning from the high-value instruments required for our accreditation by the American Chemical Society to our state-of-the-art medical simulation center," she said. "The smooth operation of this infrastructure is largely made possible by Mr. Clements."
On top of this maintenance, he also designed and fabricated a robotic frog for biological research that would have cost some $80,000 if contracted to an outside vendor. Additional repairs and support conducted by Clements have extended the life of SU's high-field nuclear magnetic resonance spectrometer, eliminating the need for an estimated $450,000 replacement.
Faculty working with Clements lauded his innovation and willingness to consider creative solutions.
"Quite simply, Mr. Clements' technical abilities are unparalleled," said Dr. Ryan Taylor, for whom Clements helped develop the robotic frog. "He dramatically improved upon the hardware systems that a professional company, employing five engineers, had developed. One of these engineers had previously worked on the Mir Space Station!"
"Paul continually facilitates research by building equipment unique to faculty needs," said Dr. Robert Joyner, director of SU's Respiratory Therapy Program and associate dean of the Henson School. "Additionally, he never shies away from the more mundane day-to-day tasks of running a large building. From supporting our reverse-osmosis system to setting up video displays for student recruitment, Paul can always be counted on."
"Paul Clements is an indispensable member of the Henson School," added Dr. David Rieck, chair of SU's Chemistry Department, for whom Clements has repaired multiple pieces of high-value equipment, including the department's atomic absorption spectrometer. "He works in a high-pressure position, but he is invariably calm and cheerful. In all my years at SU, I have not met anyone more deserving of a University System of Maryland Board of Regents' Staff Award."
For more information call 410-543-6030 or visit the SU website at www.salisbury.edu.
SHARE