SU's Cammarano Earns $50,000 Whiting Fellowship
Thursday March 1, 2018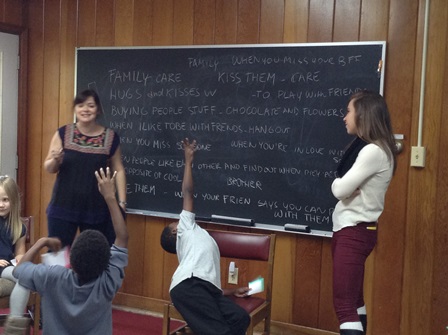 SALISBURY, MD---What is a good life? Are dreams real? If something can move, does that mean it's alive?
These are some of the questions Dr. Cristina Cammarano, assistant professor of philosophy in Salisbury University's Charles R. and Martha N. Fulton School of Liberal Arts, and her students have been asking elementary school students in Wicomico County since 2014.
Their answers have been eye-opening. For most, it's their introduction to philosophic thinking. Through Cammarano's Philosophy in Education program, they learn not only critical thinking and communication skills, but how to respect others' opinions.
The New York-based Whiting Foundation recently recognized Cammarano's work with these students, awarding her a $50,000 Whiting Public Engagement Fellowship. Hers was one of only seven offered in the current cohort.
"Despite all the positive outcomes associated with engaging in philosophy at a young age, it is by and large absent from American public K-12 education, save for a handful of well-resourced schools," the foundation said in its presentation. "Cammarano has been working to fill this gap."
The program has grown in the past four years in response to requests from teachers, students and parents. Cammarano plans to use the fellowship to launch a new phase, including a summer camp for high school students, a "Philosophy Saturdays" series for families and a summer institute to help teachers lead philosophy sessions in their classrooms.
Ultimately, she hopes to foster a culture of philosophy that includes a cohort of teachers who would serve as ambassadors for the program in their own schools.
Established in 1971 through an endowment from New York philanthropist Flora Ettlinger Whiting upon her death, the foundation honors her passion for the arts and humanities. The Whiting Public Engagement Fellowship was founded in 2015.
For more information call 410-543-6030 or visit the SU website at www.salisbury.edu.
SHARE