SU's American Women Writers of Color Conference Returns Nov. 1-3
Friday October 25, 2013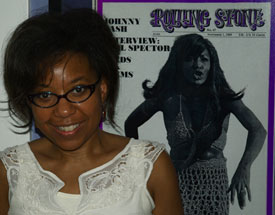 SALISBURY, MD---For more than a decade, Salisbury University hosted the American Women Writers of Color conference.
Following a hiatus, the conference returns this year, from Friday-Sunday, November 1-3, at the Clarion Resort Fontainebleau Hotel in Ocean City, MD.
Professors and graduate students from the United States and abroad present talks on the writings of American women writers of color. In response to new developments in the English discipline, the conference's scope has expanded to cover not only North American women writers of color, but also those of South and Central America, including the Caribbean. This year also introduces new conference logos designed by SU alumna Abigail Hubbard.
Daphne Brooks, a distinguished professor of English and African-American studies at Princeton University, delivers the keynote. She is the author of Bodies in Dissent: Spectacular Performances of Race and Freedom, 1850-1910, Jeff Buckley's Grace and the forthcoming Subterranean Blues: Black Women Sound Modernity. Brooks also has written numerous articles on race, gender, performance and popular culture for publications including Callaloo, Women and Performance and Women and Music.
In addition, she is the editor of books including Great Escapes: The Narratives of William Wells Brown, Henry Box Brown and William Craft and The Performing Arts volume of The Black Experience in the Western Hemisphere series.
Brooks is the recipient of a Radcliffe Institute for Advanced Study Fellowship, as well as fellowships from the Ford Foundation, Mellon Foundation and Woodrow Wilson Career Enhancement Fellowship Program. In addition, she has held residence at the University of California – Berkley as a President's Postdoctoral Fellow and at Harvard as a W.E.B. DuBois Research Institute Fellow.
Readers at the conference include Michelle Myers and Merle Collins.
Myers, a spoken-word poet, community activist and educator, is chair of the College of Philadelphia's learning lab and Student Academic Computer Center. She is a founding member of the Philadelphia-based Asian-American female poetry group Yellow Rage, and many may recognize her from the critically acclaimed HBO TV series Russell Simmons Presents Def Poetry. She also is the author of The SHE Book.
Internationally known poetry and fiction writer Collins is a professor of Caribbean literature at the University of Maryland, College Park. Her published works include the novels Angel and The Colour of Forgetting, short story collections The Ladies are Upstairs and Rain Darling, poetry collections Because the Dawn Breaks, Rotten Pomerack and Lady in a Boat, and The Governor's Story: Authorised Biography of Dame Hilda Bynoe. Conference participants visit SU's Commons for a banquet and reading with Collins, following a tour of the campus.
Chaired by Dr. April Logan of SU's English Department, conference registration is $125 for full-time faculty and $95 for part-time and retired faculty, independent scholars and graduate students. Logan encourages the SU community to follow the conference on Twitter @AWWOCConf and Instagram at "AWWOCConf." For more information call 410-543-8106, e-mail AWWOC@salisbury.edu or visit the conference website at www.salisbury.edu/english/awwoc/home.html.