Wednesday, May 4, 2016
SU's Alpha Phi Omega Donates to Operation We Care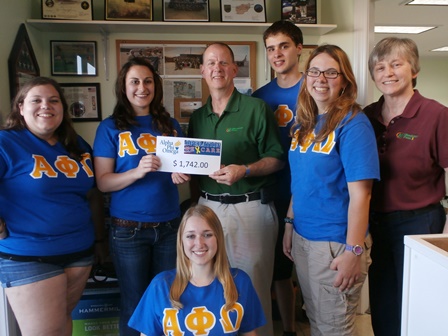 SALISBURY, MD---Salisbury University's chapter of the Alpha Phi Omega (APO) national service fraternity recently donated $1,724 to Operation We Care, Inc. to help offset the cost of postage for the organization's overseas military care packages scheduled to be sent for Memorial Day delivery.

Since 2007, Operation We Care has mass mailed care packages to military personnel twice annually — for Memorial Day and Veterans Day — in addition to sending individual packages throughout the year. The number of packages has increased from the first shipment of 110 in 2007 to over 800 this month. Last year's total was 1,840 packages, with a shipping cost of $29,256.

APO also hosted three 10-hour care package donation drives for the organization this academic year. APO members pictured, from left, with Operation We Care organizers Jeff and Diana Merritt, are Michela Fabrizio, Diana Lewis, Colleen McKeon, Kyle Bachman and Katie Baughan.

For more information about Operation We Care visit the organization's website at www.operationwecare.org.

For more information about SU call 410-543-6030 or visit www.salisbury.edu.