Thursday, February 20, 2014
SU Theatre Presents 'The Brothers Menaechmi' February 27-March 9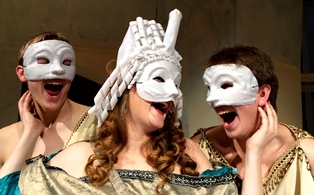 From left: Jacob Richardson, Victoria Finley and Reed DeLisle.

SALISBURY, MD---The Brothers Menaechmi is the original case of mistaken identity.

Salisbury University's Bobbi Biron Theatre Program brings this classic Roman farce to the stage Thursday-Sunday, February 27-March 2 and March 6-9, in the Black Box Theatre of Fulton Hall. Curtain is 8 p.m., 2 p.m. Sundays.

Dr. T. Paul Pfeiffer, chair of the Theatre and Dance Department, directs Plautus' comedy, said to be the inspiration for Shakespeare's The Comedy of Errors and Rodgers and Hart's The Boys from Syracuse.

Twins Menaechmus and Sosicles are separated as children. As an adult, Menaechmus mounts a search for his brother, ultimately ending up in Epidamnus, unaware that Sosicles is there, as well. Their identical visages provide plenty of confusion for a cast of characters including an angry wife, a grasping mistress and greedy slaves, before the truth is discovered.

"Plautus is known as the 'father of modern comedy,' yet his plays are 2,200 years old," said Pfeiffer. "Building on the Greek tradition of stock characters in masks, the Roman writers employed clever slaves, not-so-clever masters, domineering wives and canny courtesans – all self-serving to create a world of cynical madness and hilarious blindness. This play is, perhaps, the pinnacle of such works.

"What we see is the heritage of commedia D'el Arte, Shakespeare, Moliere, Wycherley and so on to Vaudeville, the circus – and to films – the great Silent comedies and the early 'screwball' comedies of the '30s – and on to radio and television sitcoms and romantic comedy films today."

In the title roles are Reed DeLisle as Menaechmus the Citizen (Sosicles) and Jacob Richardson as Menaechmus the Traveler. Other cast members include Zach "Ginger" Baker, Linda Bancroft, Dasha Casciero, Michelle Casse, Dylan Davey, Victoria Finley, Leah Naill, John Posner, Jade Qui, Andres Roas, Kelly Ross and Faith Sullivan.

Set design is by John Raley. Costume design is by Leslie Yarmo. Lighting design is by Tom Anderson. Emily Regan stage manages.

The Brothers Menaechmi is suggested for mature audiences. Admission is $15, $12 seniors, students and SU alumni with ID. Tickets are available online at www.salisbury.edu/theatreanddance. Tickets also may be purchased through the SU Box Office, Fulton Hall Room 100. SU ID holders receive one ticket free for Thursday performances with advance reservations.

For more information call 410-543-6228 or visit the SU website at www.salisbury.edu.