Tuesday, May 29, 2012
SU Students Develop Marketing Plan for Arby's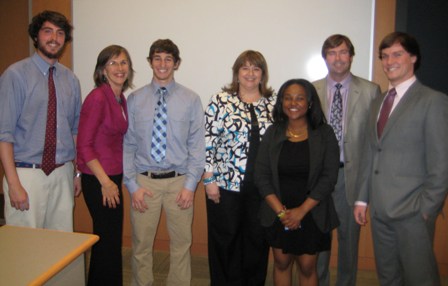 From left: Harry Beckstead, Paula Morris, Blake Chidester, Regina Trader, Simone Brown, Todd Hershey and Max Kellner.

SALISBURY, MD--- This spring, students in Paula Morris' Principles of Marketing class at Salisbury University took on a real-world challenge.

All semester, student teams explored ways to "Bring Back the Sea Gulls" to local Arby's restaurants.

The Arby's on South Salisbury Boulevard once was among the largest franchises in the United States. Many factors came together to spur growth. Arby's was the first off-campus restaurant to accept SU's Gull Card as payment. It had a good location with proximity to SU, Dresser-Wayne Industries and the SuperFresh grocery store and shopping center nearby.

Today, the Delmarby, Inc. franchise store across from SU faces many challenges. Traffic patterns have changed. Driving and pedestrian traffic now flow differently. Dresser is gone. SuperFresh closed. Many other restaurants not only compete for the students' business, but also accept the Gull Card.

In teams of three to five, students stepped up to the challenge to develop a comprehensive marketing plan to understand and strengthen Delmarby, Inc.'s overall position in the Salisbury community — and specifically SU — at its South Salisbury Boulevard location.

Early in the semester, Todd Hershey, president of Delmarby, Inc., came to class to answer questions. Later, Davis & Company, its advertising agency, visited students to give further background into how Arby's communicates with customers.

Each team submitted a marketing plan with specific action items. On May 10, judges from SU's Franklin P. Perdue School of Business and from Delmarby, Inc. viewed five presentations: Maroon and Gold, The Three Amigos, Fundraise for the Gulls, The Five Marketeers and Good Mood Group.

Each team brought a unique idea for helping Arby's regain popularity with the campus community. Teams suggested later hours or promoting the 10 percent student discount. Others encouraged fundraising options.

After much debate, Maroon and Gold emerged as the winning team. Members included Harry Beckstead, Simone Brown, Blake Chidester and Max Kellner. Each received a $100 Arby's gift card. Additionally, Arby's made a scholarship contribution to the Perdue School.

For more information call 410-543-6030 or visit the SU Web site at www.salisbury.edu.