Monday, February 20, 2017
SU Students Attend Presidential Inauguration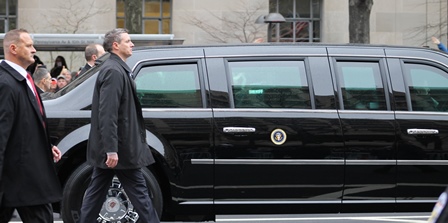 SU junior Rares "Ryan" Stoia photographed the presidential motorcade during President Trump's inauguration parade.

SALISBURY, MD---For Salisbury University junior management major Rares "Ryan" Stoia, the stars aligned on January 20.

So did the politicians.

A native of Transylvania, Romania, the Ocean City, MD, resident has long been an avid student of history and politics. He hoped to attend the 2017 Presidential Inauguration — no matter who won — but feared his work schedule would not allow it.

When he learned he had the day off (and also was on SU's winter break), he excitedly made plans to travel to Washington, D.C., for the big event — and he was glad he did. The television coverage he saw later, he said, paled to all he experienced in the nation's capital that day.

During the inaugural parade, President Donald Trump exited his limousine mere feet from where Stoia stood. The idea of being that close to one of the world's most authoritative leaders was powerful, he said.

Senior nursing major Patty Miller of Salisbury, chair of the Maryland Federation of College Republicans, also was standing nearby when Ivanka Trump exited her vehicle along the parade route. The First Daughter entered another vehicle, carrying her children — probably to give her family one final moment of normalcy before her father was sworn in as president, Miller surmised.

On the National Mall, where that swearing-in took place, the atmosphere was electric, she said: "It was very presidential and historic, as most inaugurations are, but it also felt like the finale to Trump's rallies."

She also attended the Republican nominee's campaign rally in Berlin, MD, last April.

Though Trump supporters generally were positive, there was some negative chanting when Trump's one-time opponent, Democratic candidate Hillary Clinton, arrived, Miller said. She disapproved, adding that the inauguration was meant as a celebration of democracy and a new beginning.

In that vein, she met people from across the U.S. and enjoyed chatting with them about why they traveled to Washington for the occasion. Stoia did the same, meeting others from as far away as Washington state.

One thing that stood out for him was the amount of security present to ensure the safety of the president and attendees.

"It was bigger than in any Hollywood movie I've ever seen," he said, adding that he noticed snipers on roofs along the parade route.

The event also drew its share of protestors, some of whom hindered SU senior political science major Shekinah Hollingsworth's entrance to the Mall. By the time she and her family arrived from Havre de Grace, MD, at 9 a.m., only one security checkpoint remained open. All other entrances had been blocked by demonstrators, she said. Some harassed her for wearing clothing with Trump's campaign slogan, "Make America Great Again."

This was her first time experiencing protestors, and it was eye-opening. While she said she supported their right to free speech and appreciated their participation in the democratic process, she also didn't quite understand some of their tactics, including holding up signs in front of restaurant windows for diners to notice.

Many of the protests were peaceful; however, some were not. Shortly after Hollingsworth and her family left, a riot with thrown bricks and burning vehicles broke out just blocks from where they parked.

"We heard about it on the radio," she said.

The protestors Stoia encountered were anti-violent and, in fact, helped personify the spirit of American freedom, in his opinion.

"I think an example of what makes this country so great was seeing people with Trump hats, supporting him, standing right next to protestors," he said. "It's democracy in action."

The inauguration was the first for each of the students, and the 2016 presidential election was the first in which Miller and Hollingsworth were able to vote — a fact they said made the event even more special.

All three agreed they would like to attend another.

"It was unforgettable," said Hollingsworth.

For more information call 410-543-6030 or visit the SU website at www.salisbury.edu.