SU Community Members Participate in Women's March
Monday February 20, 2017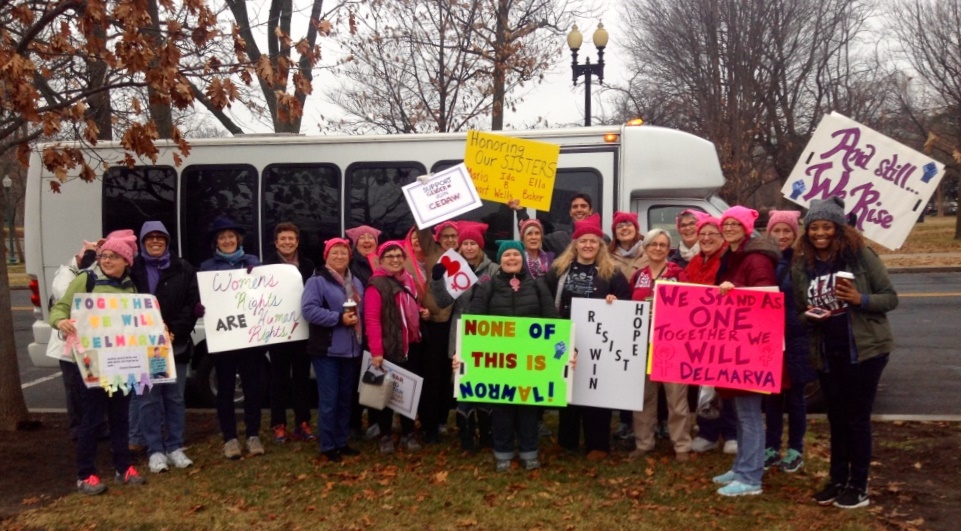 Members of Together We Will — Delmarva displayed their signs in front of their bus.
SALISBURY, MD---For Dr. Michele Schlehofer, it started with a Facebook post.
The chair of Salisbury University's Psychology Department first learned about the Women's March in Washington, D.C., when a notification popped up on her wall. After reading about it, she clicked that she was "interested" in attending — the Facebook RSVP equivalent of "maybe."
"I didn't think it was actually going to happen," she admitted, noting that such large-scale events usually require months of planning. When she saw the post, the date for the event — one day after the inauguration of President Donald Trump — was just weeks away.
Like other movements worldwide, however, this one gained momentum through social media. The more Schlehofer heard about the event, the more excited she became. So excited that she looked into chartering a bus for other members of the SU community to join.
She was still debating the idea when she started getting Facebook messages from people beyond campus. Was there still room on the bus? Was she accepting RSVPs from the greater community? They had heard about her effort through word of mouth. And they wanted in.
If taking a road trip with a bus of strangers seems like it would be daunting, it really wasn't, she said. In fact, it became a microcosmic symbol of the event itself: strangers banding together for a common cause — and becoming friends in the process.
"It was a total spontaneous grassroots effort," she said.
Calling itself "Together We Will — Delmarva," the group met at the Unitarian Universalist Fellowship in Salisbury a week before the event to create signs. For some, it was the first time they saw the ubiquitous pink hats that became a symbol of the march.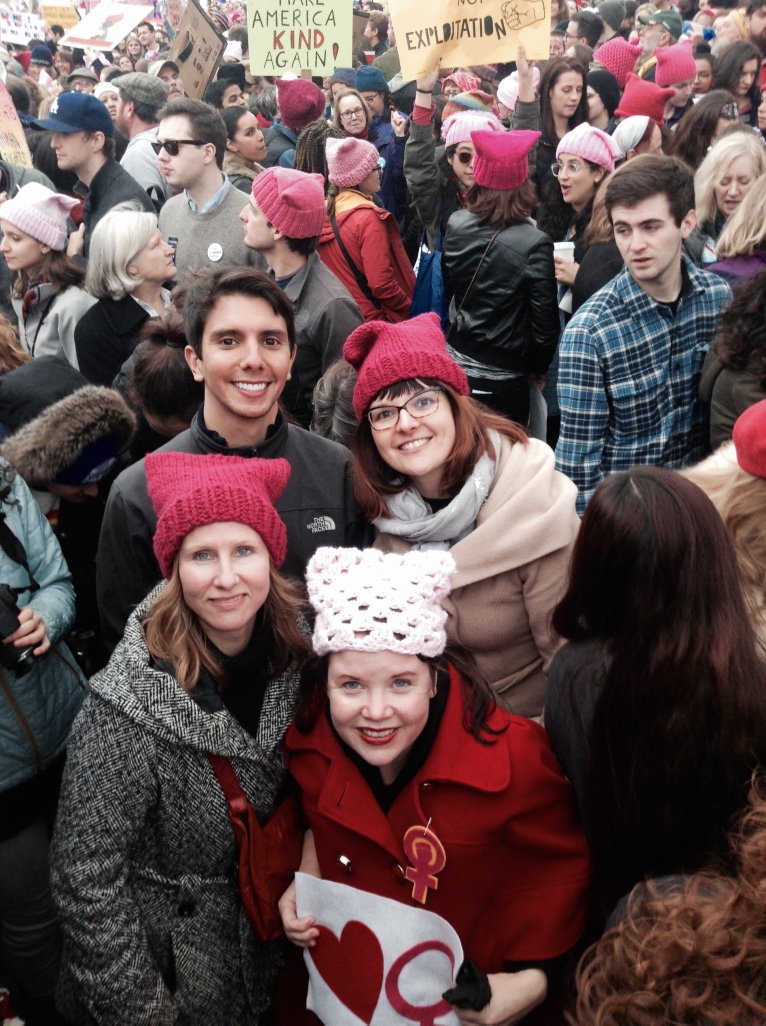 SU community members were among the thousands attending the Women's March in Washington, D.C.
As the bus made its way to Washington, Schlehofer noticed others traveling on Route 50 sporting the signature headwear. It was her first indication that "this was a historic, worldwide event."
Her next clue came when exiting the Metro station near the National Mall, where the march took place. From there, she could see that traffic was backed up and not moving.
Attendance at the D.C. event was estimated at half a million, twice the number expected and second only to San Francisco's march, which saw some 750,000.
"It literally changed the look of the city," said Dr. Elsie Walker, associate professor of English and chair of the SU Women's Forum, who joined Schlehofer and the others.
Soon after arriving, the Delmarva group found itself dispersed among the enormous crowd. Under other circumstances, the chilly, elbow-to-elbow conditions — with only limited necessities such as food and water — might have seemed like a nightmare.
Instead, it turned into a demonstration of caring not only for women's issues, but for each other — right down to the most basic necessities. Strangers had no hesitation trusting strangers, including watching their belongings, Schlehofer said.
"There was an extraordinary level of humanity," Walker agreed.
Dr. Diane Illig, chair of SU's Sociology Department and training coordinator for the University's Safe Space LGBTQIA alliance program, walks with a cane and brought a small stool to sit on during the hours-long rally. She found a spot near a lamppost that allowed her to set up with minimal disruption to the crowd. Despite the space crunch, people were respectful and gave her room, she said.
At least one person performed a particularly special act of kindness. The area where Illig sat was too far away from the stage to hear the speakers or see the large projection screens, and the space was so densely packed that cellular service was disrupted. The lone person who could receive cell phone service in that area downloaded scripts from the event in real time and read them aloud to those around her.
"A little community was formed around that light post," said Illig.
Schlehofer also could not hear the proceedings on stage, so instead, she chatted with those around her, meeting supporters from Alaska, North Dakota and elsewhere. She also took in the crowd, which included women of all races — and even a nun.
"We are a country of diversity, and we need to embrace that," said Illig, noting that the march did that and more. She also noted the importance of women who attended with their kids, ranging in age from toddlers to teenagers.
"Events like this are about their children's futures. Some of those children were the ones who brought their parents there," she said, noting that many teens and tweens have begun picking up on the significance of current events, many for the first time thanks to omnipresence of the 2016 presidential election. "The Affordable Care Act repeal, immigration law, reproductive rights issues — these are real things that are scary right now for many people."
Walker and Schlehofer were quick to note that the march was not about who was in the White House, but rather issues and potential issues affecting women.
"A lot of what is going on is terrifying to us," said Thea Bryan, an M.S.W. student from Bethesda, MD, citing concerns about scientific censorship and immigration law.
Bryan was one of several SU students attending the event independently. She also went to Trump's inauguration the day before.
"It was night and day," she said, comparing the atmosphere of both. While the inauguration seemed divisive, with supporters on one side and protestors on the other, she saw the Women's March as unifying. There, she was interviewed for the online news site BuzzFeed and met several noteworthy individuals, including women's rights activist Gloria Steinem, Planned Parenthood president Cecile Richards and a co-founder of the national Black Lives Matter movement.
Kendal Koehler, a junior history major from Street, MD, said despite two counter-protestors she encountered, the march was peaceful and energizing overall. She said the cold temperatures, crowded conditions, loud acoustics and tired feet were worth it to stand in solidarity over many of the same issues raised by Illig and Bryan, including LGBTQIA rights.
She also noted that she thought the Women's March opened the door for protests against new and proposed policies affecting not only women, but humankind at large, such as the airport demonstrations immediately following Trump's temporary travel ban. It also has spurred people to action online, with more citizens signing petitions and considering donations to pro-rights groups such as the American Civil Liberties Union, she said.
Other large-scale demonstrations in Washington "have felt like the culmination of something," said Illig. "This felt like the beginning of something. People felt energized to go do something."
The Women's March was not about a single vision, but a clarity of purpose on values, freedom, hope, generosity and the importance of equal rights, said Walker. She added that the signs and chanting were "positive and unifying," with little politicism involved.
"I wish people had been able to come together that way before the election," she said.
Not every participant with an SU affiliation marched in Washington. Others attended local events, such as a "Sister March" held the same day in Ocean City, MD, and similar demonstrations abroad, including one in Berlin, Germany.
Tracey Beale, a junior social work major taking SU classes through the University of Maryland at Hagerstown, decided at the last minute to join over 1,000 others at the Sister March near her home in Frederick, MD.
"I wanted to do my part," she said. "It was my way of letting my voice be heard."
As at the D.C. march, participants carried signs and had a hard time hearing the speakers. (A man with a booming voice near the stage helped share their messages with the audience, serving as an impromptu "sound system," she said.) Even at the local level, Beale agreed with her SU counterparts in Washington that the effort was historic.
"I felt like we were on the cusp of a major seismic shift that we would remember for the rest of our lives," said Walker, noting that it reminded her of the atmosphere of the 1960s that her mother had described. "This march was life-changing. I've never been around that many people who felt so connected."
"It was one of the most amazing things I've done," Bryan said.
"It was the largest protest in documented history," said Schlehofer. "It's going to make the history books. These signs and photos are going to be displayed in museums in the future."
Time will tell if her prediction comes true — but if it does, SU will be ready. Dr. Beatriz Hardy, dean of libraries and instructional resources, asked those who attended the January 21 marches to donate their signs and photos to the Edward H. Nabb Research Center for Delmarva History and Culture, which is preserving them in the University's archives.
Several march participants already are making plans to attend additional rallies in the capital for these and issues.
"I think this is just the beginning," said Walker.
"The reason we have it so good is that others marched for us in the past," said Schlehofer, citing 19th- and 20th-century demonstrations supporting women's suffrage, the Equal Rights Amendment and the civil rights movement. "It's not that we don't have it good today. It's that it could be even better."
For more information call 410-543-6030 or visit the SU website at www.salisbury.edu.