Friday, March 1, 2013
SU Senior Earns Prestigious Gates Cambridge Scholarship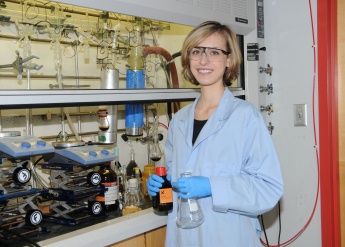 SALISBURY, MD---A Salisbury University student has earned one of the world's most prestigious international scholarships, the Gates Cambridge award, to explore the development of drugs, especially for antibiotic-resistant diseases. In the process, she is fulfilling a lifelong dream to study near her birthplace.
Senior Dominique Kunciw of Berlin, MD, will pursue a Ph.D. in chemistry at the renowned University of Cambridge. Established by the Bill and Melinda Gates Foundation, the highly-competitive scholarship is akin to Oxford's Rhodes scholarship, or the Marshall, which also supports study in the United Kingdom.
Over 4,000 people worldwide apply for the Gates annually; Kunciw was one of only 39 U.S. recipients for 2013-14.
At Cambridge, she will gain further experience in small molecule drug design and synthesis. "My goal," she said, "is to be a research chemist affiliated with a major research university working on developing molecular therapies for treatment of diseases affecting people around the world."
The daughter of two retired U.S. Air Force pilots, Kunciw was born at Royal Air Force Lakenheath near Cambridge, sparking her lifelong fascination with the 13th century university, considered the third oldest in the world. "It has always been my dream to live and study in Cambridge," she added modestly, seemingly unfazed by the prominence of her accomplishment.
Her father, Bohdan, who teaches in SU's Mathematics and Computer Science department, attributed her academic success to her determination and ability, "endless hours" of studying, and continual search for research opportunities.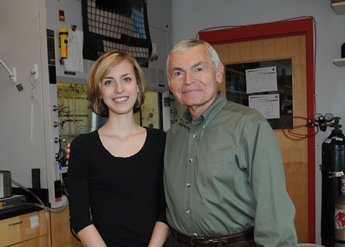 "To her goes the ultimate credit, but I would be remiss if I didn't acknowledge our outstanding University," he said. "You do not have to spend a fortune to obtain a great education. I am proud to be a part of a University which cares about its students' success and a faculty which gives their expertise, time and enthusiasm, both in the classrooms and in research settings. What matters in the end is not the size of the University, but the size of the student's vision."
At Cambridge, Kunciw will study under Dr. David Spring of the Chemistry Department and will be a member of the 600+ year old Gonville and Caius College. Among its notable fellows are physicist Stephen Hawking. Twelve Nobel Prize winners also are graduates, including Francis Crick, who co-discovered the structure of DNA.
"The Gates' ideas align with what I want to do," Kunciw said. "Their vision is to empower young minds to use their respective talents to help solve problems throughout the world." Also receiving scholarships this year are students from Harvard, Princeton, Duke, Stanford, Yale, U.S. Naval Academy and Massachusetts Institute of Technology. In addition, 50 awards also are offered to students from other nations, outside the U.K.
Kunciw graduates from SU in May 2013 with a major in chemistry and minors in mathematics and biology. She is part of the Thomas E. Bellavance Honors Program and a recipient of the Cort Scholarship in Chemistry. She has actively engaged in research on the organic synthesis of biologically active compounds at SU and at institutions in France and Germany.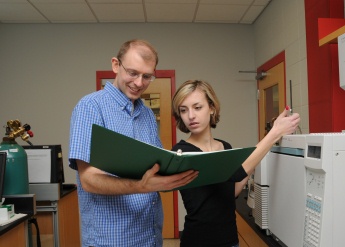 Her SU work, exploring the structural requirements of compounds used to treat tuberculosis, led to an article published in Bioorganic and Medicinal Chemistry Letters in September 2012. She spent summer 2012 working on the synthesis of an inhibitor of a chemical warfare nerve agent at Technische Universität Kaiserslautern through a German academic exchange. In summer 2011, she performed research in peptidomimetics at the École Normale Supérieure in Paris with the National Science Foundation. She has presented her work at SU's Student Research Conference, the National Conference on Undergraduate Research and the American Chemical Society's National Meeting.

"People at Salisbury go out of their way to help you," said Kunciw, citing several SU professors who provided research opportunities and helped her pursue funding.

"We are thrilled with Niki's accomplishments," said Dr. Karen Olmstead, dean of SU's Richard A. Henson School of Science and Technology. "The Gates Cambridge Scholarship is a tremendous recognition of her hard work, intellect and willingness to seek out new challenges. The award is also compelling evidence of the high caliber of Salisbury University students and academic programs."

Established in 2000 by a $210 million donation to Cambridge from the Gates Foundation, the scholarship allows students to pursue full-time postgraduate degrees in any subject offered. Selection criteria include outstanding intellectual ability, leadership potential and a commitment to improving the lives of others. Kunciw was ranked on academic merit by her Cambridge department and interviewed in Washington, D.C.

"Niki is a chemist, but also has the analytical ability of a historian and the writing skills of an English major," said Kristen Walton, SU's national fellowships advisor, who mentors and guides high caliber SU students through the application process for such awards. "She is a charming, determined and interesting young woman who will definitely succeed in her goals for the future."

In addition to covering all costs for at least three-years of study at Cambridge, the award provides housing, a stipend, and airfare at the beginning and end. Funding for conferences, fieldwork and some fourth-year studies also is considered.

Kunciw continues a family tradition of excellence at SU. Her sister, Sabrina, graduated in 2011 and is studying at the University of Maryland School of Medicine.

Kunciw was valedictorian at Worcester Preparatory School. After commuting back-and-forth from Berlin to Salisbury for four years, she expressed her excitement about living in graduate housing only two minutes from her chemistry building!

Students or faculty who are interested in details about SU's new Nationally Competitive Fellowships Office may e-mail kpwalton@salisbury.edu or visit www.salisbury.edu/nationalfellowships.

For more information about Kunciw's award, call 410-543-6030 or visit the SU Web site at www.salisbury.edu.