Monday, January 30, 2012
SU Professor Earns $2M Grant from U.S. Department of Education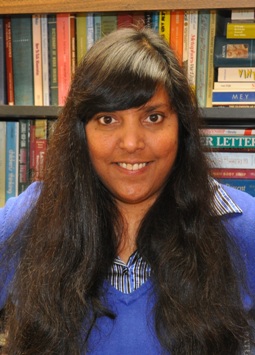 SALISBURY, MD---A growing number of Delmarva's K-12 students have little or no understanding of classroom lessons due to language barriers. In some places, English Learners (ELs) have increased 400 percent in recent years.
Dr. Anjali Pandey of Salisbury University's English Department is continuing to help. The applied linguistics professor recently earned $2 million from the U.S. Department of Education (ED) for a TARGET-Phase II project designed to aid rural Delmarva teachers in better assisting ELs, especially in the areas of science, technology, engineering and mathematics (STEM).
The only Maryland proposal funded in the 2011 competition, Pandey's niche cohort program was selected from over 230 nationwide. Historically, it is one of SU's largest grants.
"Not only will it help with the underperformance of English Learners in the region, but it is in line with national initiatives to build a democracy with a more educated populace," she said.
Launched during SU's winter session, the first cohort has explored theoretical issues. Two more cohort programs will run in the summer and fall. Topics explored in these graduate-level courses range from intercultural learning and second language acquisition to STEM linguistic literacy. Training also includes English as a Second Language (ESOL) program management and assessment, and Teaching English as a Second Language (TESOL) methodology. Teachers from over 100 schools in seven Delmarva counties have been invited to participate.
Pandey said the initiative is necessary because budget constraints in rural schools make it increasingly difficult to hire and support EL-only teachers. Also, more EL students are enrolling in high schools with little time to catch up to local, state and national standards in STEM and other content areas.
This is Pandey's third consecutive competitive discretionary-funded grant project at SU. In 2007, an original five-year, $1.5 million TARGET grant from ED supported a program to enhance ESOL skills of Eastern Shore teachers. A 2003, $1.3 million ED project launched an Accelerated Career Enhancement master's program in TESOL.
Pandey's professional development model features longer periods of intense study and encourages vertical and horizontal collaboration and dissemination of information to colleagues in schools. To date over 1,200 EL students from over 25 linguistic backgrounds on Delmarva have benefitted from the training provided to participating teachers through projects designed and administered by Pandey.
For more information contact Pandey at 410-677-5387 or axpandey@salisbury.edu, or Robert Hoffman, project administrative coordinator, at 410-543-6224 or rxhoffman@salisbury.edu.