Thursday, May 3, 2012
SU Philosophy Symposium Explores Health Care Saturday, May 5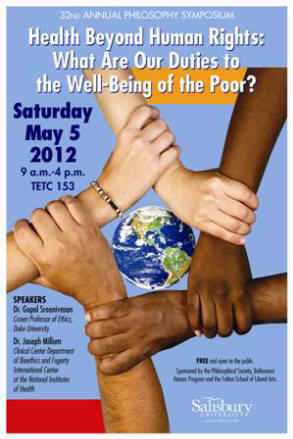 SALISBURY, MD---Health care is a perennial topic of discussion in the United States, from water cooler conversations to national political debates.

But how far does that concern with health care reach? Beyond individuals? To the borders of the country? To the edges of the continent? Or even around the globe?

The 32nd annual Salisbury University Philosophy Symposium tackles this weighty issue 9 a.m.-4 p.m. Saturday, May 5, in Teacher Education and Technology Center Room 153. The discussion centers on "Health Beyond Human Rights: What Are Our Duties to Improve the Well-Being of the Poor?"

Guest speakers are Drs. Gopal Sreenivasan, Crown Professor of Ethics at Duke University, and Joseph Millum of the National Institutes of Health's Clinical Center Department of Bioethics and Fogerty International Center.

The event begins with a continental breakfast at 9 a.m. During the morning session, Sreenivasan and Millum discuss some of the ethical issues surrounding health care. Sreenivasan's presentation focuses on "A Right to Health: Here, There or Nowhere?" Following a break for lunch, faculty panelists and local community leaders comment on the debate as it affects the region. The audience is invited to join in the discussion throughout the day.

Sreenivasan has written about health care and personal duty in publications and journals including the Hastings Center Report and Ethics. He also has authored two books, The Limits of Lockean Rights in Property, from Oxford University Press, and Emotion and Virtue, forthcoming from Princeton University Press.

Millum has co-authored two books for Oxford University Press: Global Justice and Bioethics and Research Ethics Consultation: A Casebook. He has presented at conferences hosted by the World Congress of Bioethics, American Society for Bioethics and Humanities and Canadian Philosophical Association, among others. He also has written about medical ethics and other topics in publications including the Journal of Medical Ethics, Canadian Medical Association Journal and Stanford Encyclopedia of Philosophy.

Sponsored by the SU Philosophy Department, admission to the symposium is free and the public is invited. For more information call 410-677-5070 or visit the SU Web site at www.salisbury.edu.