SU Opera Workshop Presents 'Talk Opera!' April 25-27
Tuesday April 15, 2014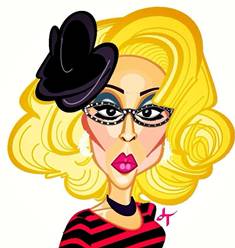 SALISBURY, MD---The world of talk shows is in a state of flux, with Jimmy Fallon taking over the desk for The Tonight Show and Seth Meyers becoming the new host for Late Night.
One thing is unlikely to change, however: Opera will still be underrepresented in the mix of celebrity interviews and musical guests.
Salisbury University's John Wesley Wright hopes to change that during this year's SU Opera Workshop presentation, Talk Opera!, April 25-27 in the Great Hall of Holloway Hall. Curtain is 8 p.m. Friday, April 25, 3 and 8 p.m. Saturday, April 26, and 3 p.m. Sunday, April 27.
SU voice students present opera classics between interview scenes scripted by Wright, who also directs, in traditional talk show settings. Operas represented include Candide, The Marriage of Figaro, Hansel and Gretel, Porgy and Bess and Carmen, among others.
The performance begins with a representation of daytime programs (think Oprah and Ellen) before seguing into a late-night format, all hosted by "Magnolia Applebottom," a character portrayed by Jeremy Bernstein. The host signs autographs following each show.
Wright hopes the unique production will help make opera more approachable for those who may not have thought about attending an opera before.
"All of the guests on the show are stars of the opera, so it's a multi-layered concept, but really quite simple," he said. "The host invites them on and interviews them. They set up the scenes they are singing and then perform them."
The standard talk show traditions are present, as well. Between guests during the "daytime" portion of the production, Bernstein gives away prizes to the audience. The "late night" half of the show includes a David Letterman-esque "Top Ten" list.
"It's great fun!" said Wright.
Performers include sopranos Sarah Burrall, Caitlyn Howard, Marissa Lacey, Lauren Shockley and Leah Wilson; altos Breanna Courville, Brittany Eaton, Kassidy Korb and Mary-Tyler Upshaw; tenors Tyler Brunner, Syed Jaffrey and John Wixted; and baritones/basses Daniel Bishop, Cornelius Fletcher, Devin Osborne and William Willis.
Sponsored by the Department of Music, admission is $10, $8 for SU faculty and staff with ID, $5 for non-SU students and $3 for SU students with ID.
For more information call 410-543-6485 or visit the SU website at www.salisbury.edu.
SHARE