SU Opens 'New' Pocomoke Residence Hall
Thursday January 21, 2010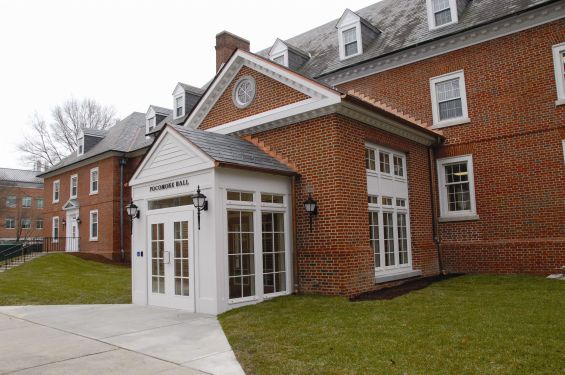 SALISBURY, MD---For more than four decades, thousands of students have called Salisbury University's Pocomoke Residence Hall home.
Today, however, most of them probably would not recognize the place.
Some 77 students are moving into the building for the spring 2010 semester following a $7.1 million renovation that has turned the hall into one of the most environmentally friendly and secure structures on campus.
"There are no state dollars at work here," said Dane Foust, associate vice president of student affairs. "This is paid for entirely through student housing fees."
The changes literally begin at the front door, with a new entryway constructed where the hall's outside steps had been since the building's 1966 opening. Cameras were added indoors and out as part of a new security feature that eventually will allow SU officials to visually monitor the entire Quad—the open area between Pocomoke and three other residence halls.
Inside, a new elevator helps make the building ADA compliant. The elevator is programmable so only students with disabilities may be granted access.
Throughout the building, crews replaced pre-existing tile and floor coverings with carpet produced by Tandus, a Georgia-based company that includes recycled materials in its products. The new carpet can be cleaned in a more environmentally friendly manner, said Dave Gutoskey, SU director of housing and residence life.
In what used to be the hall's basement is now a 27-student classroom, complete with screen and data port for PowerPoint presentations. This is the first in-residence-hall classroom at SU, for use mainly by the University's Living Learning Communities.
Students in Living Learning Communities share common interests—such as sustainability—live together on the same floor, and attend classes in their field. Now, Living Learning students in Pocomoke will not have to leave their residence hall to attend some classes.
By 2011, three communities are slated to be assigned to each of the Quad's four halls. For many, the program lasts beyond freshman year as students continue to room with others with specific interests such as education or STEM (science, technology, engineering and mathematics).
Next to the classroom—which doubles as a study area at night—is a new common area for socializing, complete with a 55-inch flat screen TV and pool table. Gutoskey's intent was to contrast the building's former dark, enclosed space with as much inviting light and openness as possible. "We basically eliminated the basement," he said. "As much as we tried to offer student activities downstairs, it was really a dungeon."
That shouldn't be a problem now in the new lower level, which also includes snack machines, a full kitchen and a laundry room filled with environmentally friendly washers and dryers as part of SU's ongoing agreement with Mac-Gray Corp., the nation's leading supplier of institutional laundry equipment.
In the renovation, SU officials sought to make the most of the building's space, converting former attic storage into six new rooms. Offset hallways and the addition of bathrooms helped to create unique, suite-style spaces. Impact resistant drywall and drop-tile ceilings replaced former concrete blocks, which Gutoskey said should absorb noise. Room lights have two settings so students may choose to use less electricity. On the outside, the building's traditional academic architecture remains intact.
The hall was renovated in accordance with U.S. Green Building Council guidelines. SU officials hope to earn LEED Silver certification at the minimum—the same designation as the University's Teacher Education and Technology Center, which last year became the first LEED-certified building on the Eastern Shore.
Pocomoke's neighbors—Manokin, Wicomico and Nanticoke halls—may be even more sustainable as they are renovated through 2011. Because Pocomoke's two-year-old HVAC system, rated for 20 years, was a high-efficiency unit, plans did not call for its replacement. Other residence halls in the Quad, however, are expected to feature geothermal heating. Some 90 wells will be dug beginning this summer.
Grim + Parker Architects of Calverton, MD, designed the Pocomoke renovation. The contractor was Holder Construction Co. of Atlanta.
For more information call 410-653-6030 or visit the SU Web site at www.salisbury.edu.
SHARE