Thursday, December 20, 2012
SU Nursing Majors Again Earn State's Highest NCLEX Pass Rate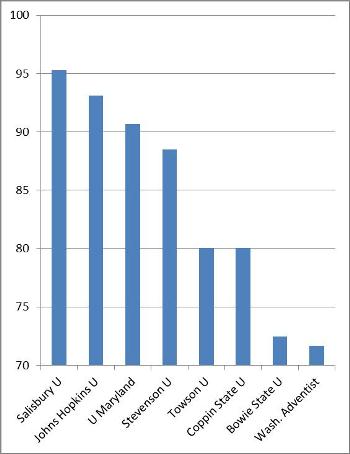 SALISBURY, MD---Salisbury University students have again earned the highest pass rate of all baccalaureate programs in Maryland on the National Council Licensure Examination for Registered Nurses.

With some 97.26 percent of students passing on the first try, SU topped peers including Johns Hopkins University and the University of Maryland, according to Maryland Board of Nursing data for 2011-12.

SU also has the state's best five-year average pass rate of 95.29 percent (see graph).

"This is a testament to the outstanding instruction and mentorship that our nursing students receive," said Dr. Karen Olmstead, dean of the Richard A. Henson School of Science and Technology. "I congratulate and thank Dr. Lisa Seldomridge and all of our nursing faculty and staff for their tremendous work with our students."

"I'm so grateful to my colleagues and our students who work so hard throughout the year to be successful," said Seldomridge, the department chair.

The statistics represent students in SU's two undergraduate nursing tracks: traditional first-degree students and accelerated second-degree students. Some 71 out of 73 passed on the first try.

In addition to successfully graduating highly-qualified registered nurses, SU also is preparing more nurse educators and leaders through its new Doctor of Nursing Practice program.

For more information contact SU's Department of Nursing at 410-543-6420 or visit the Web site at www.salisbury.edu/nursing.