Wednesday, November 12, 2014
SU Nursing Earns $299K to Expand 'Standardized Patient' Training Statewide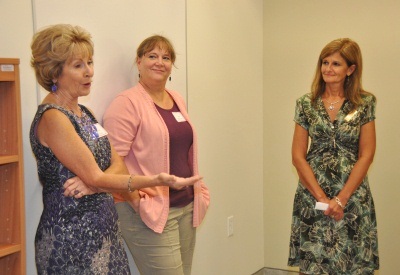 SALISBURY, MD---When Salisbury University nursing students enter the psychiatric/mental health lab inside the campus' Richard A. Henson Medical Simulation Center, they are greeted by a "patient" who may be depressed, schizophrenic, manic or even suicidal.

Their interactions are recorded and discussed later with faculty and peers, and the students learn that identifying and caring for individuals with behavioral and mental health issues goes hand-in-hand with addressing clinical needs.

The SU Nursing Department has received $299,983 from the Maryland Higher Education Commission (MHEC) to expand this "Standardized Patient Experience" training across the state.

Over the next two years, Drs. Debra Webster and Lisa Seldomridge will develop a series of web-based toolkits for other faculty to use to teach students the essential skills for "mental health" nursing.

"In the center, our 'patients' are actors who are trained to portray individuals with various mental health disorders," Webster said. "What we will be creating are six video vignettes featuring these actors that students at other campuses may watch for their assignments. We'll also have accompanying learning objectives, pre-experience assessments, feedback rubrics and follow-up activities."

The toolkits are designed to prepare students for real clinical experiences, to substitute for live experiences when necessary, to augment instruction for students who need additional experience, and to ensure that all students are exposed in some way to caring for those with mental health issues.

During the first year, toolkits will be developed to teach students how to establish a therapeutic relationship and professional boundaries, manage hallucinations and delusions, and assess suicide risk. In the second year, toolkits will be added to address crisis management skills, including communication, trauma assessment and safety.

"The toolkits will be available for faculty in all Maryland nursing programs," said Seldomridge, department chair. "By sharing resources, maximizing faculty time and using common learning activities, we hope to prepare more future nurses with the skills to provide safe and quality care for people with all types of mental health needs."

Students, alumni and community members are among those who have trained to work as standardized patients at SU. One, Faith Sullivan, said: "One of my favorite parts is seeing how [students] react and respond to things that happen in the session; I'm always impressed by the smart and compassionate choices they make while thinking on their feet." Another, Jan Bellistri, added: "The simulation experience gives me a chance to play a small role in preparing students for challenges that may arise in their careers. I always tell them that no matter what field of nursing they enter, they will use these tools to communicate and be empathetic and supportive to patients and their families."

Pictured is Bellistri (center) with Webster (right) and another standardized patient volunteer, who is explaining the simulation experience during an event at SU's Simulation Center.

The grant is part of the Nurse Support Program II administered by MHEC since 2005 to address the shortage of nursing faculty that in turn limits the number of nurses earning degrees in the state. This is the fourth NSP II grant totaling more than $2.25 million that Seldomridge and the SU Nursing Department have received.

For more information, call 410-453-6030 or visit the SU website at www.salisbury.edu.