Tuesday, June 16, 2015
SU Nursing Awarded Nearly $2.1M to Continue Faculty Academy Initiative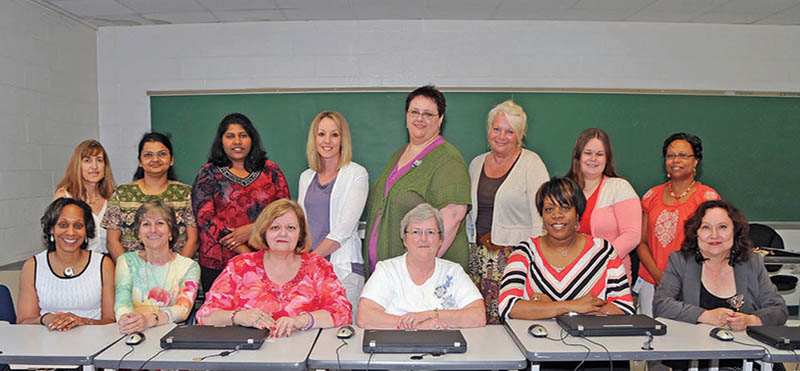 SALISBURY, MD---Salisbury University's Nursing Department has received the largest grant in its history ― nearly $2.1 million ― to continue a project that prepares clinical experts to become nursing faculty.

The Eastern Shore Faculty Academy and Mentoring Initiative (ES-FAMI) was created by SU and several partners in 2011 to develop quality adjunct professors with a particular emphasis on recruiting underrepresented individuals, including men and those from diverse backgrounds.

"Having better prepared nursing faculty ― and more of them ― allows for the education of more nursing students," said SU President Janet Dudley-Eshbach. "This, in turn, helps address shortages of nurses in Maryland and beyond. Salisbury University and our outstanding nursing faculty are committed to offering programs and opportunities that meet the workforce needs of our region and the state."

The ES-FAMI is being funded via the Maryland Higher Education Commission (MHEC) as part of the Nurse Support Program (NSP) II it administers for state's Health Services Cost Review Commission (HSCRC). NSP II's goal is to increase the number of nurses in Maryland by focusing on their education.

In awarding the latest funds, MHEC recognized SU as "a leader in mentoring new faculty in nursing education" and a "strong partner" in the efforts to expand resources for clinical faculty to Maryland nursing programs and hospitals.

Peg Daw, NSP II grant administrator, also called the ES-FAMI "foundational" and thanked SU's team for its "leadership and willingness to provide faculty mentoring and promote collaboration in a model for statewide dissemination."

Wor-Wic Community College and Chesapeake College are educational partners in the ES-FAMI, while practice partners include Peninsula Regional Medical Center, Atlantic General Hospital and the University of Maryland Shore Regional Health System.

"We hope to continue the success of the academy which, since its inception, has graduated some 50 students," said Dr. Lisa Seldomridge, Nursing Department chair and project director. "Thirty-seven of them have taken part-time teaching positions with one of the original partner institutions, while six are in full-time teaching roles. We also have met our goals in terms of having over a third who are male and/or non-white. Eleven participants also have completed or enrolled in advanced degree programs, including eight at SU."

The ES-FAMI is currently a 30-hour program, combining face-to-face and online learning, simulated teaching experiences and group mentoring. Through this five-year extension, it will be modified to provide one-to-one mentoring to support graduates in their first teaching assignments. Additional web-based learning strategies also will be integrated to make the entire curriculum available in a distance accessible format.

The academy is delivered twice per year by teams of faculty from the partner schools. Graduates teach at least one clinical course per year for one of the campuses. Area health care partners recruit their B.S. and M.S.-prepared registered nurses to join.

This is the fifth NSP II grant that Seldomridge and the SU Nursing Department have received; it nearly matches the combined total of $2.25 million for the others. It also is one of the top five largest external grants in University history. The original ES-FAMI grant was for $376,498. Seldomridge's co-principal investigators are Drs. Tina Reid and Judy Jarosinski, also of Nursing.

For more information call 410-543-6030 or visit the SU website at www.salisbury.edu.