Wednesday, October 22, 2014
SU Hosts National Day Without Stigma Carnival Tuesday, October 28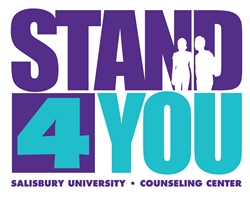 SALISBURY, MD---The Salisbury University Counseling Center's STAND4YOU program hosts a National Day Without Stigma Carnival with Active Minds on Tuesday, October 28.

Designed to encourage students and others to fight the stigma surrounding mental health disorders and treatment, the event is 11 a.m.-2 p.m. in the Link of Nations, between the Guerrieri University Center and the Commons.

Attendees are encouraged to take a pledge to provide safe spaces for individuals to discuss mental health concerns and issues such as suicide without judgment or discrimination; gather information about warning signs, ways to intervene and resources; and learn how to become an advocate for mental health awareness in the community.

They may participate in a Positive Photography Booth, learn about Active Minds among other organizations present, and view the "Mental Health: Know the Facts, No Stigma" poster art exhibit. There also will be crafts, games and face painting, along with free T-shirts, STAND4YOU give-a-ways and food.

According to the Active Minds organization, one in four college students struggles with a diagnosable mental health disorder.

The carnival is sponsored in part by the Counseling Center; the Dean's Office of the Seidel School of Education and Professional Studies; and the Student Affairs, Housing and Residence Life and Career Services offices. Admission is free and the public is invited.

The STAND4YOU suicide prevention and mental health promotion program was developed under grant number 060511 from the Substance Abuse and Mental Health Services Administration (SAMHSA), U.S. Department of Health and Human Services (HHS). The views, policies and opinions expressed are those of the authors and do not necessarily reflect those of SAMHSA or HHS.

For more information contact Anisa Diab, STAND4YOU Coordinator at 410-543-6070 or ajdiab@salisbury.edu.